---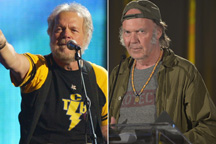 Randy Bachman Takes New Direction
ultimateclassicrock.com
Having taken a loving look back at his storied career with 'Every Song Tells a Story,' Randy Bachman is ready to ditch the nostalgia for something new. Entirely new, in fact. New genre, new songs, new guest stars … even a new band. And he's crediting Neil Young with the idea.
Bachman, a founding member of both the Guess Who and Bachman-Turner Overdrive, says he's at work on a new record titled 'Heavy Blues,' in which he'll explore rootsier sounds. "I've already mixed half the album, which will include 12 songs," he tells ABC News. "It absolutely blows me away."
Featured collaborators will include ZZ Top's Billy Gibbons, Peter Frampton, Joe Bonamassa and Young — who served as the catalyst for this bold shift. "He said, 'Take some advice. Don't do the same old crap and call it something new,'" Bachman recalled. "I said, 'What do you mean?' He said, 'Don't do the same thing and say it's a new album … Stop, get out of the box, do something fearless, be fierce, be ferocious, reinvent yourself.' And I go, 'OK, great advice.'"
Bachman's retooled backing group includes bassist Anna Ruddick and drummer Dale Anne Brendon — a pair of up-and-coming Canadian players who are already reshaping his catalog in concert. "They are just amazing," said Bachman, who returns to the road in October. "When they redo my old songs like 'American Woman' and 'Takin' Care of Business,' it's a whole new life - because it's a whole new rhythm section."
'Heavy Blues' will also include an archival song with the late Jeff Healey. Bachman says he expects to release the Kevin Shirley-produced effort in March 2015.
---
And More on Neil Young Dating Darryl Hannah
The Daily Mail reports that Neil Young is already dating Daryl Hannah, less than a month after filing for divorce from his wife of 36 years. Young, who at 68 is 15 years older than the actress, was spotted on Tuesday with Hannah in Westlake, Calif. Paparazzi photos showed them holding hands and kissing.
The two have never been romantically linked before, though they've shared a longstanding interest in the environment and have participated in several of the same demonstrations - including one in Washington, D.C., protesting the Keystone Pipeline and another to help raise awareness about Utah's threatened Greater Canyonlands. It wouldn't be the first time Hannah - best known for her role as a mermaid in 'Splash' - has intersected with rock royalty. She previously was in a relationship with Jackson Browne and, if you believe the rumors, Mick Jagger.
Neil and Pegi Young had two children together, Ben and Amber. She began singing backup with her husband in the '90s, memorably joining him onstage at the Academy Awards ceremony in 1994, before starting her own solo career. In turn, Neil dedicated songs like 'Such a Woman,' 'Once an Angel' and 'Unknown Legend' to Pegi. The latter song, from his 1992 album 'Harvest Moon,' retold the story of their meeting, when Pegi was a waitress at a California diner.
Young's petition for dissolution of marriage was filed in their hometown of San Mateo on July 29. Neil Young is set to play Farm Aid on Saturday and then begin a series of solo acoustic dates across the U.S. in October. The divorce hearing is scheduled to become final on Dec. 12.
---
Jeff Beck and ZZ Top Tour To Resume in 2015
ultimateclassicrock.com
Once ZZ Top bassist Dusty Hill recovers from his recent injury, the band plans to resume its package tour with guitar legend Jeff Beck in 2015.
The band announced its plans in a Facebook post, insisting "Dusty's well-being is paramount," and letting fans know they'll be off the road for the rest of the year while Hill rehabs the wounded hip he sustained after stumbling on the tour bus. "We're looking forward to getting out there and rockin' it with Dusty in a big way … 100 percent," added Hill's bandmates Billy Gibbons and Frank Beard, while Hill joked that he wants to add Slim Harpo's 'Hip Shake' to the set list for the next round of dates. Added Beck, "We are looking forward to getting back out there with ZZ Top and are grateful that Dusty is on his way to a complete recovery."
Those shows are already falling into place, including a number of rescheduled gigs with Beck. Although some of the canceled dates will not be rescheduled, they've announced plans to make up six shows in May 2015, with promises of a complete updated schedule to be released next week. Take a look at the current list of gigs below, and keep an eye on this space for further news.
Jeff Beck/ZZ Top 2015 Tour Dates
5/01 – Thackerville, OK
5/02 – The Woodlands, TX
5/07 – Tampa, FL
5/08 – W. Palm Beach, FL
5/09 – Saint Augustine, FL
5/10 – Alpharetta, GA
Canceled 2014 Tour Dates Not Slated to Be Rescheduled
9/25 – Bloomsburg, PA
9/26 – West Springfield, MA
9/27 – Portland, ME
10/08 – Ft. Wayne, IN
10/15 – Columbia , SC
---
45 Years Ago: Janis Joplin Releases Her Debut Solo Album, 'I Got Dem Ol' Kozmic Blues Again Mama!'
ultimateclassicrock.com
Anyone who heard Janis Joplin's knockout performance on Big Brother and the Holding Company's 1968 album 'Cheap Thrills' knew she wouldn't be sticking around for long. Her voice, her charisma, just about everything about the Texas-bred singer, in fact, was too big for the sometimes plodding San Francisco blues rockers backing her.
Months after 'Cheap Thrills' was released and reached No. 1, Joplin left Big Brother, with whom she made two albums. She just wanted to do her own thing and took the band's guitar player Sam Andrew, along with her for her new group the Kozmic Blues Band, which was mostly comprised of studio vets.
From the start, Joplin preferred her music straighter and more natural than many of her contemporaries. She had little room for the psychedelic shadings that so many of her peers dosed their tunes with. She was a huge R&B fan, and in turn had already covered cuts by Big Mama Thornton ('Ball and Chain') and Emma "Aretha's Sister" Franklin ('Piece of My Heart') with Big Brother, reinventing them in her own ballsy, bluesy, raspy style along the way.
But with her debut solo album, 'I Got Dem Ol' Kozmic Blues Again Mama!,' on the horizon, Joplin used a classic '60s R&B template as her guidebook. Employing a horn section and a pop sound pretty much foreign to Big Brother, Joplin and producer Gabriel Mekler steered the sessions away from her old band's hippie collective and toward a more inclusive market.
But they still handpicked songs that fit Joplin's voice and aesthetic, like Jerry Ragovoy and Chip Taylor's 'Try (Just a Little Bit Harder),' and 'Maybe,' a 1958 doo-wop classic by the Chantels that was later covered by the Three Degrees, who took it back into the Top 40 in 1970.
In fact, only two original songs were included on 'I Got Dem Ol' Kozmic Blues Again Mama!': 'One Good Man,' which Joplin penned herself, and 'Kozmic Blues,' which she co-wrote with producer Mekler. San Francisco songwriter Nick Gravenites, who later joined Big Brother as their singer, also wrote two songs for the album, including the concert showstopper 'Work Me, Lord.'
---
John Mellencamp Announces 'Plain Spoken' Tour
John Mellencamp will be hitting towns both small and large as part of a massive new 80-date tour in support of his forthcoming 'Plain Spoken' album. Shows begin this winter, and stretch well into the summer of 2015 — and all tickets bought online or by phone will be paired with a free download.
Featured are a number of multi-night stops, including New York City, Nashville, Chicago, Toronto and Mellencamp's hometown of Bloomington, Ind. The Rock and Roll Hall of Famer will kick off and then end the tour in his home state, beginning in South Bend on Jan. 21 and then wrapping up in Indianapolis on Aug. 4.
Tickets go on sale Sept. 19 at the singer's website and here. (Citi cardmembers will have access to pre-sale tickets starting next Tuesday.) 'Plain Spoken' is Mellencamp's first album since 'No Better Than This' four years ago.
Check ultimateclassicrock.com for tour dates and locations.
---
Led Zeppelin Lawyer Up for 'Stairway to Heaven' Copyright Infringement Case
As Led Zeppelin's reps prepare to fight allegations that they stole the introduction to 'Stairway to Heaven' from the Spirit song 'Taurus,' they've turned to a top entertainment industry lawyer.
Businessweek reports that attorney Helene Freeman, a partner at the New York firm Phillips Nizer, is on the case — and although Freeman may not be a household name, her work is very familiar to music business insiders; in fact, she was responsible for helping *NSYNC wrest themselves from their rookie recording contract in the late '90s.
'Taurus' composer Randy California passed away in 1997 - founding Spirit bassist Mark Andes filed the suit on behalf of his late bandmate's trust - but in an interview before he died, he publicly admitted to thinking 'Stairway' ripped off his composition, calling it "kind of a sore point" and adding, "Maybe someday their conscience will make them do something about it."
Businessweek's report notes that Zeppelin's lawyers have until Sept. 22 to respond to the suit. Neither Freeman nor anyone involved with the band or its corporate label parent, Warner Music, have responded to requests for comment, but as we previously reported, guitarist Jimmy Page has gone on record as finding the allegations "ridiculous."
---