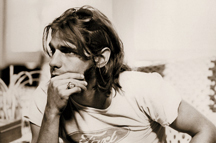 Glenn Frey Was 'The James Dean' of the Eagles
Billboard.com
Following Glenn Frey's death on January 18, his former bandmate Don Felder has issued a statement honoring the late Eagles co-founder, guitarist, singer and songwriter.
"Glenn's passing was so unexpected and has left me with a very heavy heart filled with sorrow," said Felder. "He was so young and still full of amazing genius. He was an extremely talented songwriter, arranger, leader, singer, guitarist, you name it and Glenn could do it and create 'MAGIC' on the spot. His visions and insights into songs and lyrics have become legendary and will echo throughout time on this earth for decades to come."
Felder joined Eagles as lead guitarist in 1974 while the band was recording On the Border. He stayed in the band until 2001 when he was fired, later suing for alleged wrongful termination, among other complaints. The case was eventually settled out of court.
"Glenn was the one who invited me to join the Eagles in 1974 and it turned out to be a gift of a lifetime to have spent so many years working side by side with him," Felder continued. "He was funny, strong, and generous. At times it felt like we were brothers and at other times, like brothers, we disagreed. Despite our struggles and difficult moments together we managed to create some magical songs, recordings and live show. His charisma on stage was felt and loved by millions of people all over the world.
"I have many wonderful memories of those years and the many miles I travelled with Glenn, filled with laughter, song, parties, hugs and brotherly bonds. Glenn was the James Dean of the band. He was the leader that we all looked to for direction and by far the coolest guy in the band. It saddens me a great deal that we were never able to address the issues that came between us and talk them through. Sadly now we will never get the chance.

"The planet has lost a great man and a wonderful musician today. None will ever be able to take his place.

"May you rest in peace Glenn Frey and may God bless you and your lovely family."
Glenn Frey's' Top Hot 100 Hits
Rank, Title, Peak Position, Peak Date

1, "You Belong to the City," No. 2, Nov. 16, 1985

2, "The Heat Is On" No. 2, March 16, 1985

3, "Smuggler's Blues," No. 12, June 22, 1985

4, "True Love," No. 13, Oct. 15, 1988

5, "The One You Love," No. 15, Nov. 6, 1982

6, "Sexy Girl," No. 20, Aug. 18, 1984

7, "I Found Somebody," No. 31, Aug. 7, 1982

8, "All Those Lies," No. 41, Jan. 15, 1983

9, "Part of Me, Part of You," No. 55, June 15, 1991

10, "The Allnighter," No. 54, Oct, 27, 1984
---
David Bowie Scores First Top 40 Hot 100 Single Since 1987 With 'Lazarus'

Billboard.com

The late icon debuts at No. 40 with "Lazarus." He also re-enters with two other titles while taking over a record 21 of the 50 positions on the Hot Rock Songs chart.
The depth of appreciation for David Bowie, who passed away Jan. 10 at age 69, keeps becoming clearer, as evidenced by Billboard charts, as the legend lands his first top 40 hit single on the Billboard Hot 100 in more than 28 years.
He also owns nearly half the 50-position Hot Rock Songs chart, breaking a record with 21 concurrent titles.
"Lazarus," from Bowie's farewell album Blackstar, debuts at No. 40 on the Hot 100 (dated Jan. 30). It's his first top 40 Hot 100 hit since "Never Let Me Down," which reached No. 28 on the chart dated Sept. 26, 1987. "Lazarus" is Bowie's 14th top 40 entry on the Hot 100 overall. He logged his first, the No. 15-peaking "Space Oddity," in 1973. Of his 14 top 40 Hot 100 hits, six soared to the top 10, with two climbing all the way to No. 1: "Fame," for two weeks in 1975, and "Let's Dance," for a week in 1983.
As previously reported, Blackstar begins at No. 1 on the Billboard 200, marking Bowie's first-ever No. 1 on the chart with 181,000 equivalent album units earned in the U.S. in the week ending Jan. 14, according to Nielsen Music. Of that sum, 174,000 were in pure album sales, marking Bowie's biggest sales week for an album since Nielsen began electronically tracking point-of-sale music purchases in 1991.
"Lazarus" launches with the bulk (86 percent) of its Hot 100 chart points from streaming, as the track starts on Streaming Songs at No. 15 with 8.1 million U.S. streams (up from 156,000). It also sold 16,000 downloads in the tracking week (up from less than 1,000).
Two Bowie classics also re-enter the Hot 100: "Oddity," at No. 42, and his Queen collaboration "Under Pressure," at No. 45. The latter reached No. 29 in 1982 (and would later be sampled in Vanilla Ice's 1990 No. 1 "Ice Ice Baby"). (Older songs are allowed to return to the Hot 100 if ranking in the top 50 and showing notable gains.) "Oddity" re-enters the Hot 100 with 5.5 million streams (up from 414,000) and 44,000 downloads sold (up from 1,000), while "Pressure" resurges with 5.9 million streams (up from 455,000) and 36,000 sold (up from 2,000). Plus, the Blackstar title track debuts at No. 78.
Thus, while "Lazarus" was the most-streamed Bowie song of the week (8.1 million), "Oddity" was his top-selling track (44,000).
---
Black Sabbath's 'The End' Tour Reportedly Continuing Into 2017

Ultimateclassicrock.com

Black Sabbath's concert calendar only goes as far as September, but fans can expect to see plenty of dates added to their The End tour — enough to keep the band on the road into next year.
Word of an imminent extension comes from Michael Miley, drummer for Sabbath support act Rival Sons, who shared his band's ongoing commitment to the tour during a recent appearance on One on One With Mitch Lafon. "The dates go into 2017, but none of those are released. We don't even know what they are yet. I think this tour is going to keep going for awhile," said Miley in the segment, which you can listen to below. "We have dates up until September. It's pretty unbelievable."
The End tour, which is being billed as Sabbath's last, started Jan. 20 in Omaha, and is currently scheduled to conclude Sept. 21 in Phoenix — although thanks to Miley, we now know further dates will follow. The members of Sabbath had originally planned to release a farewell album to coincide with the tour, but later changed their minds; instead, they're offering a tour-only The End CD that bundles four outtakes from the sessions for their last album, 13, alongside live performances from their tour in support of the LP.
While Sabbath singer Ozzy Osbourne is already lining up solo plans, guitarist Tony Iommi has made it clear he wasn't the holdup with a new album. "Do I intend to stop playing? No," he insisted. "It's the touring, really, [that is difficult]. I'd love to do something with the guys. But, whatever happens, I will do something."
---
Nancy Wilson Talk About Heart's Early Days in an Exclusive Clip From the Guitar Documentary "Turn It Up!"
Ultimateclassicrock.com
The documentary Turn It Up! A Celebration of the Electric Guitar — which collects a crowd of well-known musicians to take viewers on "an emotional exploration of the electric guitar and the people who fall under its spell" — will be released on home video tomorrow. But we have the premiere of a bonus clip featuring Heart's Nancy Wilson, in which she looks back on her early days playing alongside her sister Ann.
Seeking to explore the "rich bond between musician and instrument, and the pilgrimage to find the ultimate guitar and perfect tone," Turn It Up! puts host Kevin Bacon on a trail of interviews with a long list of guitarists that includes Slash, Les Paul, B.B. King, Steve Howe, Paul Stanley, Robby Krieger and Steve Lukather — as well as Wilson, whom you can watch in the clip above. The movie's release follows an Indiegogo campaign that — although it failed to raise the $75,000 sought by director Robert Radler — raised the project's profile considerably.
"I gave up the guitar to become a filmmaker. About five years ago, my son started playing, so I pulled my 1968 Gibson out from under the bed, and it all came flooding back," director Robert Radler told Guitar World. "Then my dad was in town for the holidays, also five years back, and I played for him and told him all about my little guitar collection. He said, 'You need to make a film about the electric guitar!' I realized at that time that my whole career consisted of works for hire — nothing for myself. This one was personal and I had to do it. I wanted to share the joy of rediscovering the electric guitar."
Learn more about Turn It Up! by visiting the film's Facebook page and official website. The DVD and Blu-ray version, which includes a bonus disc of extra material, is available for pre-order now.
---