---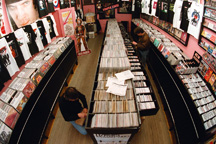 10 Years Ago Ozzy Escapes House Fire
ultimateclassicrock.com
Ozzy Osbourne's own wild behavior has endangered his life more times than he can probably count but, on March 25, 2005, he escaped a potential tragedy that had nothing to do with rock star excess.
As reported by the Daily Telegraph, Osbourne and his wife Sharon were asleep in bed when they were jolted awake after a smoke alarm went off just before midnight, alerting the couple to a fire in the living room of the main building on their seven-acre estate. Rushing outside with their pets, the Osbournes watched from the garden as a four-man firefighter crew fought the blaze, which was ultimately "thought to have caused thousands of pounds worth of damage."
Speculating that it may have started due to some sort of electrical problem, a spokesperson for the fire department told the paper, "Two men and one woman were treated at the scene after suffering from breathing in smoke, but they were OK."
The fire, which was later determined to have been caused by heat from a fireplace igniting nearby wood paneling, was only the latest in a series of calamities at the Buckinghamshire estate. In 2003, Ozzy nearly died after suffering serious injuries in an ATV accident on the premises, and the following year, he fought burglars who made off with some of the family jewels.
There have been additional problems in recent years, too. In 2014, the building suffered extensive flood damage and was the center of a battle between Osbourne and his local government after his plans to convert a barn on the property into an apartment was found to be disruptive to a bat population.
After the flooding, the Osbournes decamped temporarily to their Los Angeles home, where they'd dealt with yet another fire in 2013. If Ozzy's home insurance premiums are through the roof, however, he at least seems like he might have a good sense of humor about it: In the fall of 2005, he included his version of Arthur Brown's "Fire" on his Under Cover LP.
---
ultimateclassicrock.com
Van Halen will tour North America this summer and fall in support of their upcoming concert album, Tokyo Dome Live in Concert. The tour will kick off in Seattle on July 5 and wrap up in Los Angeles on Oct. 2.
In between, the band will play more than three dozen shows across the continent, with stops in Chicago, Cleveland, Toronto, Dallas and Phoenix. You can see the full list of tour dates below.
David Lee Roth - who sang on the band's most recent studio LP, 2012's A Different Kind of Truth - will be on board for the tour, which will include the Kenny Wayne Shepherd Band as the opening act on all dates.
In addition to the upcoming tour, the band will perform a concert on Jimmy Kimmel Live on March 30 and 31, the day Tokyo Dome Live in Concert comes out. It's being touted as the band's first U.S. TV appearance with Roth. (Van Halen are also scheduled to perform on The Ellen DeGeneres Show on April 2.)
The upcoming live set - the group;s first with Roth - includes 23 songs from the seven albums the band recorded with its original singer. The album documents a show recorded on June 21, 2013, in Tokyo.
On the same day that record is released, Van Halen are reissuing remastered versions of Van Halen and 1984, with new versions of Van Halen II, Women and Children First, Fair Warning and Diver Down to follow in the spring.
(Sadly they are not yet scheduled for Las Vegas - but here is a partial list of the closest cities)
July 5 - Seattle, WA @ White River Amphitheatre
July 7 - Portland, OR @ Amphitheater Northwest
July 9 - Concord, CA @ Concord Pavilion
July 11 - San Bernardino, CA @ San Manuel Amphitheater
July 14 - Irvine, CA @ Verizon Wireless Amphitheatre
July 16 - Mountain View, CA @ Shoreline Amphitheatre
July 18 - Salt Lake City, UT @ USANA Amphitheatre
July 20 - Morrison, CO @ Red Rocks Amphitheatre
September 28 - Phoenix, AZ @ Ak-Chin Pavilion
September 30 - Chula Vista, CA @ Sleep Train Amphitheatre
October 2 - Los Angeles, CA @ Hollywood Bowl
---
Paul McCartney and Stevie Wonder Top Hall of Famers
Rollingstone.com
The Rock and Roll Hall of Fame has announced presenters for this year's ceremony: Paul McCartney will induct Ringo Starr, Stevie Wonder will speak on Bill Withers, Patti Smith will intro Lou Reed, Peter Wolf will show praise to the Paul Butterfield Blues Band, Fall Out Boy will discuss Green Day, John Mayer will pay tribute to Stevie Ray Vaughan and Double Trouble and Steve Cropper will extol The "5"Royales. Organizers have yet to announce who will induct Joan Jett & The Blackhearts.
The Hall of Fame also revealed that Dave Grohl, Joe Walsh, Tom Morello, John Legend and Jimmy Vaughan will perform at the annual show, which is being held April 18th at Cleveland's Public Hall. The induction ceremony now rotates between Cleveland, New York and Los Angeles on a three-year cycle. Paul McCartney and Ringo Starr last played the historic venue at a Beatles concert on September 14th, 1964.
Green Day has been completely inactive since they wrapped up their last tour in March 2014. They plan on performing at the ceremony, though Billie Joe Armstrong admits picking a setlist will be a challenge. "We'll get there," he told Rolling Stone. "It's hard because there's the Lookout years that are important to us. It would be nice to play something from those years that's meaningful."
Starr is also not sure how his performance will play out. "I told Paul [McCartney] that I'm not putting a band together," he told Rolling Stone. "If he puts a band together, I'll do 'With A Little Help From My Friends."
HBO will air the Rock and Roll Hall of Fame induction ceremony on May 30th. Tickets are mostly sold-out, though a limited number of VIP packages remain available. On April 11th, an exhibit will open at the museum honoring the new inductees, with the museum charging no admission that day.
---
Robert Plant Hits The Road with Space Shifters
Rollingstone.com
Robert Plant will hit the road again this year with his Sensational Space Shifters backing band for a tour that wraps itself around festival appearances at Sasquatch and Bonnaroo. The Pixies will open select dates, while singer-songwriter J.D. McPherson will open a handful of others.
Tickets for the tour, which spans late May to the middle of June, will go on sale March 20th at 10 a.m. EST. Each ticket to a non-festival show includes a download of the former Led Zeppelin singer's most recent solo album, last year's space-folk-leaning Lullaby and...the Ceaseless Roar.
The tour also begins one month after Plant releases a new EP, More Roar, as a 10-inch vinyl release for Record Store Day (April 18th). The limited-edition record contains four songs he recorded on his 2014 tour in support of Lullaby, including "Turn It Up/Arbaden" on the A-side, backed with "Poor Howard" and his radical remaking of Led Zep's "Whole Lotta Love (Medley)."
Although Plant includes reworkings of songs by his alma mater in his solo performances, he said last year that he has no desire to reunite with Jimmy Page and John Paul Jones for a tour. "You're going back to the same old shit," he told Rolling Stone last May of the prospect. "A tour would have been an absolute menagerie of vested interests and the very essence of everything that's shitty about big-time stadium rock. We were surrounded by a circus of people that would have had our souls on the fire. I'm not part of a jukebox!"
In a separate interview with Rolling Stone, he explained why he was so excited to be working with the Sensational Space Shifters. "We bring in all the aspects of being European, leaning on Africa and the Delta," Plant said. "It's pretty virile stuff, and it has come from our countless hours of trudging the endless highways. If we'd just met in a room somewhere, we'd have never gone anywhere near this."
Robert Plant and the Sensational Space Shifters Tour Dates:
May 24 - George, WA @ Sasquatch! Festival
May 25 - Bend, OR @ Les Schwab Amphitheater
May 27 - Salt Lake City, UT @ The Depot *
May 28 - Las Vegas, NV @ Brooklyn Bowl *
May 30 - Napa, CA @ BottleRock Festival
May 31 - Santa Barbara, CA @ Santa Barbara Bowl *
June 2 - Los, Angeles, CA @ Greek Theatre *
---