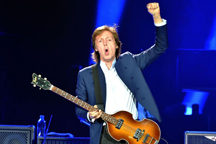 Paul McCartney Is Trying to Reclaim the Rights to His Beatles Songs
ultimateclassicrock.com
More than 30 years after Michael Jackson purchased the publishing rights to the Beatles' catalog, Paul McCartney is looking to reclaim them. According to sources, he has already begun the paperwork necessary to have the rights to the songs he and John Lennon wrote in the '60s.
McCartney isn't trying to make a deal with Sony/ATV. the company that was formed by the 1995 merger of Jackson's estate and Sony. Instead, Billboard says that he's using a provision of the U.S. Copyright Act of 1976 to get them back. The law allows songwriters to regain their rights after 56 years, or two consecutive 28-year periods. To do so, they must file termination claims between two and 10 years before that window closes. Sony/ATV's rights for the Beatles' songs expire between 2018 and 2025.
Towards the end of 2015, McCartney filed termination notices on 32 songs, most of them from the last two years of the Beatles' existence, and it's believed that he previously filed claims on his earlier songs. It's important to note that this applies solely in the U.S. — Sony/ATV will still control them globally — and only to McCartney's half of the songs credited to him and Lennon. Billboard adds that, because Lennon was killed in 1980, his portion was up for reversion in 1990, but Sony/ATV made a deal with Yoko Ono to keep control of the rights for the duration of the copyright. The law stipulates that, in the case of co-writes, the copyright expires 70 years after the death of the last author.
Jackson purchased ATV in 1985, which had owned the Beatles' copyrights since 1967, for more than $47 million, which McCartney considered to be an act of betrayal by his friend. Ten years later, Jackson sold half of his share to Sony for $100 million. Earlier this week, Sony/ATV agreed to buy out the Jackson estate's share for more than $750 million.
---
Santana Reunion Inspired an Outburst of Almost 50 Songs

ultimateclassicrock.com
The reunion of Santana's classic-era members sparked a tidal wave of creativity. As Carlos Santana confirms in a new talk with the Huffington Post, the group worked on far more music than will see the light of day on the upcoming Santana IV.
"We probably recorded close to 50 [songs], but this is what was most ready to come out," he explained. "These songs are not in an embryonic state like the other ones."
Gregg Rolie, the group's returning keyboardist and singer, described their recent time together as "just like riding a bicycle. It was something about how we grew up together with this music and playing with each other. It was really a jam band. That's what we did the first couple of days. We just drank and jammed. … It had feel beyond belief; there was some great stuff going on."
Together for the first time since 1971's Santana III, Santana, Rolie and second guitarist Neal Schon returned to a shared early musical experience – specifically, their days at the Fillmore. "We were thinking of honoring the Grateful Dead, Ravi Shankar, Miles Davis, the Doors," Santana said. "Just go there, go to that place where you can still smell the patchouli oil and the weed, you know?"
At the same time, Rolie admitted that much has changed over the decades. "We're better writers, we're better with people, we're better all the way around as human beings – and that leads to the music," he said. "If you're having a good time with the talent and the people that are involved, it's going to be good."
The always-busy Santana also noted that his next projects will include collaborations with members of the Isley Brothers, Herbie Hancock and others.
---
David Crosby, Who Loves Elephants, Is Working on Two New Solo Albums

Ultimateclassicrock.com

David Crosby has done countless interviews over the course of his career, and more often than not, he's answered variations on the same few questions. But now, thanks to the A.V. Club, we know what kind of giant animal he'd like to ride to work.
The answer? "An elephant," Crosby laughed, "because I love elephants!"
Aside from his fantasy pachydermal commute, Crosby's 11 Questions Q&A shed some light on his future plans as a solo artist. After snapping a drought of more than 20 years between solo albums with 2013's Croz, Crosby is making up for lost time with not one, but two new LPs — both of which he plans to put out in 2016.
"I'm finishing up two solo records that I'm making at the same time. One of them's already finished; the other's about three-quarters of the way finished and both of them are going to come out this year," said Crosby, adding that one of the albums will include collaborations with Snarky Puppy member Michael League. "He's my friend and is just a fascinating guy," he noted. "He produced the first one, the one that's already done. He did a very good job."
Crosby's current creative rush is worth applauding, but it comes at a bittersweet moment in his career. As fans are painfully aware, he has more room in his schedule for solo work. That's because Crosby, Stills and Nash appear to have been irreparably ruptured by a feud between Crosby and Graham Nash, who recently went on record to vow he'd never record with his longtime partner again.
---
Peter Frampton and Lynyrd Skynyrd Announce Tour

Peter Frampton and Lynyrd Skynyrd – two artists known for their classic live albums in the '70s – are hitting the road together this summer.
So far, a dozen dates have been announced, but more are promised soon. The tour will start on June 3 in Albany, N.Y., and is set to wrap up on Aug. 21 in Murphys, Calif., but the road trip could be extended. You can see a full list of show dates below.
Frampton and Skynyrd have toured together several times over the years, going back to the '70s, when each scored big with popular live albums. The band's 1976 concert set, One More From the Road, includes a 14-minute version of "Free Bird" that still gets tons of airplay. Frampton's live album, Frampton Comes Alive! (also from 1976), was pretty much a record-collection staple back in the day.
Lynyrd Skynyrd's most recent studio LP, Last of a Dyin' Breed, reached No. 14 in 2012 – the group's highest-charting album since their last with the original classic lineup, 1977's Street Survivors. Frampton recently released Acoustic Classics, an album of some of his best-known songs performed unplugged.
Peter Frampton and Lynyrd Skynyrd 2016 Tour:

6/3 — Albany, NY—Times Union Center
6/4 — Holmdel, NJ—PNC Bank Arts Center
6/5 — Wantagh, NY—Nikon at Jones Beach Theater
6/8 — Lancaster, PA—Clipper Magazine Stadium
6/10 — Philadelphia, PA—Mann Center for the Performing Arts
6/11 — Gilford, NH—Bank of New Hampshire Pavilion
6/28 — Clarkston, MI—DTE Energy Music Theatre
8/4 — The Woodlands, TX—Cynthia Woods Mitchell Pavilion
8/9 — Englewood, CO—Fiddler's Green Amphitheatre
8/18 — Los Angeles, CA—The Greek Theatre
8/19 — Las Vegas, NV—The Chelsea at The Cosmopolitan
8/21 — Murphys, CA—Ironstone Vineyards Amphitheater
---