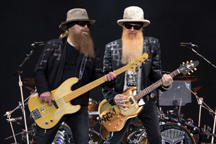 ZZ Top Call Former Manager/Producer Bill Ham Their 'Fourth Member'
ultimateclassicrock.com
Nearly a week after the death of Bill Ham, ZZ Top have spoken at length about their former manager and producer. In a new interview, they praised his contributions, calling him their "fourth member" and a "father figure."
Speaking to Classic Rock, guitarist Billy Gibbons noted how Ham's career as a songwriter and performer in the '50s helped them grow. "[He] generously and willingly shared those techniques with us from the very beginning of his involvement in our band. So that was a very solid platform that he bought to the ZZ Top party. … I certainly always considered him the band's fourth member and our shining light. I mean to say, he managed to put up with the trials of dealing with three renegade individuals for more than 40 years, so that's something in itself."
Ham died on June 20 at his home in Austin, Texas at the age of 79. In addition to serving as ZZ Top's manager from the beginning of their career until 2006, he produced or co-produced all of their albums up through 1996's Rhythmeen. His talent as another set of ears was noted by bassist Dusty Hill.
"One thing in particular I remember was when we had recorded the songs 'Waitin' for the Bus' and 'Jesus Just Left Chicago' for the Tres Hombres record. There was that bump in the studio that merged them together as one song, which was actually a total accident – they were meant to be separate songs. But Bill was the one who caught that and suggested we leave it be, and that was absolutely the right decision. Bill was very good at making that kind of intervention."
Frank Beard expanded on Gibbons' comments about Ham's acumen in dealing with the personalities within the group. "I truly think the band would have broken within three years if Bill hadn't been involved. He was the guy that smoothed things out whenever we got our feathers ruffled with each other and who always encouraged us no matter what. He was our father figure, simple as that."
Upon hearing of his passing, ZZ Top issued a brief statement: "We were saddened to hear of Bill Ham's passing. His early vision and continuing encouragement were invaluable; his efforts and energy will always remain deeply appreciated."
---
Paul Stanley Doesn't Think Bruce Springsteen Ripped Off Kiss' 'I Was Made for Lovin' You'

ultimateclassicrock.com
Paul Stanley has given his thoughts in the "Stairway to Heaven" trial that dominated headlines over the past two weeks. To make his point, he referenced a similarity between one of Kiss' highest-charting singles and a Bruce Springsteen song.
Speaking to Russ Rollins of RealRadio 104.1 in Orlando, Fla., Stanley said, "A lot of times it's really unfair, because there are a certain amount of notes and they only get jumbled so many different ways. There's a Springsteen song that sounds like… There's a part of the song that sounds like 'I Was Made For Lovin' You,' so I'm sure he wasn't sitting around listening to that. But it finds its way into everybody's music. You can't come down on everybody for their creativity."
Stanley is talking about "Outlaw Pete," the opening track from Springsteen's 2009 album Working on a Dream. But apart from a few melody lines and a running time of approximately eight minutes, the two songs don't have much in common. "I Was Made for Lovin' You" is a disco tune about wanting sex while "Outlaw Pete" is a Western epic about the life of a boy who "at six months old [had] done three months in jail." Springsteen and illustrator Frank Caruso turned the song into a picture book in 2014.
But Stanley otherwise didn't have much of an opinion on the whether or not the suit was valid, only that it was "pretty strange that this lawsuit came 40-plus years after the fact." However, as a songwriter who holds a number of lucrative copyrights, he added that he was "watching [the trial] as much as everyone else is."
On Thursday, a jury ruled that Led Zeppelin did not steal "Stairway to Heaven" from Spirit's "Taurus." The suit was filed by Spirit bassist Mark Andes through the estate of guitarist Randy California, who wrote "Taurus."
---
Steven Tyler Releases Title Track From New Solo Album 'We're All Somebody From Somewhere'

Ultimateclassicrock.com

Steven Tyler is offering fans another sneak peek at his upcoming solo album We're All Somebody From Somewhere by offering the title track as the latest single.
The new song, now available for purchase, follows the Somebody cuts "Love Is Your Name" and "Red, White & You," both of which were previously sent to radio as part of the album's long release campaign. Tyler gave "We're All Somebody From Somewhere" its live debut at the 2016 CMA Fest, which you can watch above, and performed the song earlier today as part of a brief set (also including Aerosmith's "Cryin'" and the Big Brother and the Holding Company number "Piece of My Heart") during a visit to the Today Show.
Tyler headed to Nashville while working on the new album, which finds him switching up his traditional sound in favor of a more modern country approach and working with an array of the genre's biggest producers and songwriters. As he told Rolling Stone, the move had a pronounced effect on his music.
"I believe y'all are gonna listen to this stuff and you're gonna agree with me that it fell from a star," said Tyler. "I had nothing to do with this s—, it's just Nashville. There's something so magical about this town and me writing with all these people. … Country music still plays stuff with melody, I have a sorcerer's grasp of melody, I like to think."
Although he's yet to officially announce the track listing for the record, he appears to have leaked the song titles in a Facebook post:
MY OWN WORST ENEMY discovered that WE'RE ALL SOMEBODY FROM SOMEWHERE but HOLD ON he (WON'T LET GO), like everything else, IT AIN'T EASY but when LOVE IS YOUR NAME it helps, yet I still find I need to MAKE MY OWN SUNSHINE with assistance from a GYPSY GIRL and maybe SOMEBODY NEW, however, it's ONLY HEAVEN that really sees THE GOOD, THE BAD, THE UGLY AND ME but I see the RED, WHITE & YOU all the way down to SWEET LOUISIANA I ask myself, WHAT AM I DOIN' RIGHT? because JANIE'S GOT A GUN but this world has a PIECE OF MY HEART.
Tyler will spend the summer on his Out on a Limb solo tour.
---
Guns N' Roses Members Talk Favorite GNR Songs, Concert Warm-Up Rituals

ultimateclassicrock.com
Guns N' Roses are ready to get back on the road with their Not in This Lifetime Tour, and they've shared a series of behind-the-scenes videos to help fans gear up for the shows. The clip above finds keyboardists Melissa Reese and Dizzy Reed and drummer Frank Ferrer sharing their favorite GNR songs and pre-show rituals. For Ferrer, the top Guns cut is "You Could Be Mine," while Reese called out "Coma" and Reed chimed in, "I've gotta go back to my first favorite, which was 'Nightrain.'"
As far as rituals go, Reed says he likes to "get a little loose" before heading onstage, which tends to entail a shot of Jägermeister. Ferrer takes a different approach: "Being alone and quiet. Maybe a little glass of wine." Reese, meanwhile, prefers "to get all jacked up on sugar and ready to go."
"The excitement exists within the fans, obviously," adds Reed. "And we do this for them. … We're pretty pumped, man." Ferrer concurs: "I can't imagine what the fans are feeling. If they're feeling half of what I'm feeling, they're losing their minds." "I'm one of you guys," Reese says. "I'm up here experiencing this the same way you are."
The clip is just one of several the band has shared on social media in the days leading up to their show at Ford Field in Detroit tonight. Production manager Dale "Opie" Skjerseth promised an epic performance in a recent interview with the Detroit Free Press, predicting a set running at least two and a half hours in length and spanning their entire catalog. Saying they've been "rehearsing every song they know," he added, "It'll be their first night. They'll be fresh and want to try everything."
---
Peter Gabriel and Sting Kick Off U.S. Tour With Exuberant, Inspired Collaborations: Concert Review

ultimateclassicrock.com
Peter Gabriel and Sting last toured together in 1986 and 1988 as part of a string of Amnesty International benefit concerts. Last night, at Nationwide Arena in Columbus, Ohio, the pair kicked off their new Rock, Paper, Scissors tour with a marathon set brimming with exuberant collaborations.
In fact, it's more precise to call this a co-mingling tour, not a co-headlining tour, because both artists (and their respective bands) collaborated throughout the two-hour-and-40-minute set. Sting even lightly characterized the night as an "organic battle of the bands," even though the competition was clearly friendly.
The show started off with both groups backing Gabriel on "The Rhythm of the Heat," the first track from 1982's Peter Gabriel. Having two drummers and a percussionist on the stage was a boon for the song, which felt like a volcano simmering and then exploding. Sting then bounded onstage for a buoyant take on his solo hit "If I Ever Lose My Faith in You," which featured additional and cutting flourishes from fiddle player Peter Tickell.
Gabriel's "Games Without Frontiers" was another early standout: Sting and Gabriel not only shared lead vocals, but they harmonized together on the chorus, their voices blending and weaving around one another perfectly. That push-pull matched the song's strident, prey-stalking rhythmic backbone: In tandem with the arrangement, Sting and Gabriel marched across the stage and around each other, like a toreador circling a bull. "Solsbury Hill" also benefitted from the collaboration: Couples danced in the section of arena seats behind the stage — and Gabriel himself galloped around the stage — as both bands ran through the folk-flecked, uplifting song.
At times, the concert's song swapping was even more pronounced and intriguing. Sting did an admirable job taking over lead vocals on Gabriel's "Shock the Monkey," which featured skittering electronic currents reminiscent of drum 'n' bass. As a preface to the Police's "Message in a Bottle," Sting delighted the crowd by singing a brief, nearly a cappella snippet of Genesis' "Dancing With the Moonlit Knight." A few songs later, a laid-back take on the Police's "Walking in Your Footsteps" segued right into him tackling Gabriel's equally funky "Kiss That Frog," a tune highlighted by David Sancious' keyboard wizardry. Gabriel and his band later returned the favor by transforming Sting's upbeat "If You Love Somebody, Set Them Free" into an ominous, Pink Floyd-reminiscent prog dirge with rich, soulful overtones. At the end of the song, Gabriel whispered "Set them free" and "Let 'em go" with barely concealed creepiness.
---