---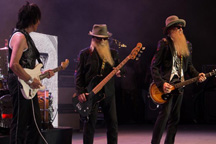 ZZ Top and Jeff Beck Trade Licks
ultimateclassicrock.com
ZZ Top and Jeff Beck kicked off their summer tour in fine style on August 8 in Missoula, Montana.

The pairing for one of this summer's most anticipated tours may seem strange at first: the otherworldly, progressive playing of British guitar icon Jeff Beck and the hot sauce-infused, raunchy Texas boogie of ZZ Top. But as their co-headlining tour kicked off at the Osprey Field in Missoula, Montana Friday night, it quickly became clear to the audience that this was a superb - albeit unusual - pairing.

You'd be forgiven for wondering if this combination could work, even though both acts are guitar-based heavy hitters with a deep history in the blues. After all, over the years they have carved out very different niches under the ever-expanding classic rock umbrella. The constantly evolving extraterrestrial soundscapes that Beck has created in recent years are a far cry from the hot rod strut of ZZ Top, who seem far more interested in getting back to the blues-rock basics of their earlier years than playing with computers lately.
Beck took the stage dressed in black wielding a white telecaster, and launched immediately into his trademark expressive guitar licks as the band held down an exotic, dynamic groove. It was evident from the get-go why this man has built the legacy he has — Beck's uncanny understanding of his instrument allows him to create a wide palette of sounds while using a minimum of effect pedals. Bird chirps, robotic bips and beeps and motorcycle noises poured out of his speakers and become part of the band's sonic collage, bolstered by his unique phrasing and attention to detail. Simply put: Beck shreds.
Of course, he's assembled quite the band to help him out with the task. In the middle of the third song, bassist Rhonda Smith tore into a very impressive bass solo, and second guitarist Nicolas Meier had plenty of opportunities to let loose throughout the set. While all this was happening, drummer Jonathan Joseph laid down dense, powerful beats. After a handful of instrumentals, the quartet brought vocalist Jimmy Hall of Wet Willie fame (he also sang on Beck's 1985 Grammy award-winning album, 'Flash'), and launched into 'Morning Dew' from Beck's classic 1968 album, 'Truth.'
The rest of Beck's set was a mix of originals such as the recent 'Why Give It Away' (which featured some stellar blues harp playing from Hall) and 'Going Down,' along with some incredible covers. Beck made his guitar sound like a church organ for the gospel-tinged Sam Cooke cover 'A Change is Gonna Come,' and channeled Jimi Hendrix for a celestial rendition of 'Little Wing.' Following the set-closing cover of Taj Mahal's 'Diving Duck Blues' the guitar legend expressed his gratitude to the cheering crowd, stating: "This is why I do this. Why else?"
Following a set break, the video screens onstage lit up with a spaghetti western-style introduction and the instantly-recognizable characters of ZZ Top appeared. The show started with the 1983 hit 'Got Me Under Pressure,' and the field of people in front of the stage kicked into dance party mode right away. 'Waitin' For the Bus' turned into the slower, groovy blues burner 'Jesus Just Left Chicago' - just like it does on 1973′s immortal 'Tres Hombres' - while guitarist Billy Gibbons shot out solos effortlessly. The group has certainly been known for grandiose stage gimmicks, but aside from the video screens that played continuously throughout the show, this concert was simply about good ol' rock 'n' roll.
As the setting sun cast the ball field in a golden hue, ZZ Top churned through the more recent 'I Gotsta Get Paid' with swagger to spare before treating the crowd to their own take on Hendrix with a smoky version of 'Foxy Lady.' The group then slid into the classic blues tune 'Catfish Blues,' giving Gibbons the chance to really step out and shine. Following the lead of a guitarist with the skill of Jeff Beck is no small feat, but Gibbons has a catalog of licks a mile long and plenty of style to boot, both of which he showed off as bandmates Dusty Hill and Frank Beard held down a steady rhythm.
'My Head's In Mississippi' turned into 'My Head's In Montana' to a cheering crowd reaction, Gibbons hit a home run with a fret-hand-only guitar solo during 'Sharp Dressed Man' and the trademark fuzzy guitars were busted out for the set closing 'Legs.' As promised in the pre-tour promotion, they re-emerged for an encore with Beck in tow, and it was everything you'd hope it would be, as he and Gibbons tossed incendiary licks back and forth throughout extended versions of 'La Grange' and 'Tush.' The ensemble left the stage again and came back out for a second encore; a spitfire version of the classic Elvis Presley tune 'Jailhouse Rock.' It was a perfect end to the evening, reminding the crowd that while they've since gone on to explore everything from roadhouse blues to robot noises, these two acts share a common language of rock and roll that goes all the way back to the genre's earliest roots.
---
40 Years Ago: Joe Cocker Attempts a Comeback With 'I Can Stand a Little Rain'


ultimateclassicrock.com
From the beginning of his recording career, Joe Cocker boasted both a willingness to do things differently — and the chops to pull it off. As early as his solo debut, 1968′s 'With a Little Help from My Friends,' Cocker set himself apart as a gifted interpreter of other people's songs, unleashing a gravelly soul howl that belied his Sheffield roots while shining a spotlight on songwriting during an increasingly image-driven era.
Unfortunately for the accountants at his various labels, Cocker also seemed to be dogged by an inability to sustain momentum. A talented live performer, he delivered a number of memorable concert appearances early in his career (including one of the finer sets at the original Woodstock festival) and built a name for himself as a first-rate ringleader of blues-rock abandon - only to tour himself into a state of exhaustion, building a number of chemical dependencies along the way.
In fact, for much of 1973, Cocker's career had sunk into something of a holding pattern. Picked up for marijuana possession during an Australian appearance in late 1972, on the outs with his producer Denny Cordell, and faced with the prospect of carrying on after the retirement of his longtime collaborator Chris Stainton, Cocker seemed unsure of what to do next, and his substance issues - particularly his alcohol dependency - deepened. But in the midst of all that darkness and uncertainty, he teamed up with producer/trumpet player Jim Price for one of his better-selling solo sets.
Originally conceived as a double album, 'I Can Stand a Little Rain' found Cocker surrounded with session aces and top songwriters - some of whom, like Randy Newman and Jimmy Webb, ended up performing on Cocker's covers of their songs. Included in the somewhat ballad-heavy track listing was a recording of 'You Are So Beautiful,' originally released earlier in the year on Billy Preston's 'The Kids & Me' LP; ultimately, it went on to become one of Cocker's bigger hits, reaching No. 5 on the charts.
"Jim rekindled my interest," Cocker later told Blank Space in 1979. "Jim called and played me ['You Are So Beautiful'], he just came round the house and said, 'What's wrong?' And he played me [the Price-penned] 'I Can Stand a Little Rain,' which turned out to be the title of the album. The two things that kind of re-fired me into work again, and consequently drove me insane in the process."
Chuckling that he ended up recording part of the album in Jamaica "because I like it," Cocker displayed a similarly cavalier attitude when asked about the array of talented guest stars on the LP. "It was just flukes," he insisted. "We were looking round for songs, and Randy, bless his soul, he's as heavy as Ray Charles. We did 'Guilty' together, and the man said, 'My God, if I could sing like you, I'd make a million dollars.'" Pointing out that he also covered Harry Nilsson's divorce ballad 'Don't Forget Me,' he added, "We're all babies together, you know. L.A. babies."
Although as usual, Cocker's songwriting contributions were limited - he co-wrote only one number, 'I Get Mad,' with Price - the solemn tone of tracks like Newman's 'Guilty' and Webb's 'The Moon's a Harsh Mistress' led some to believe that the song selection process had been influenced by the singer's personal troubles, but he resisted that interpretation. "Well, you just sing about what is," he shrugged. "I just pick songs for the verbal content or, you know, whatever gives me a buzz."
The buzz didn't go as far as Price and Cocker would have liked at A&M, where execs put the kibosh on plans to release 'I Can Stand a Little Rain' as a double LP. "We were trying to put it together like that, but I think the record company fell out with the idea, so we just slowed down," he explained — and although the album was eventually limited to 10 cuts, the rest of the recordings were quickly turned around for Cocker's fifth album, 'Jamaica Say You Will,' released the following April.
Unfortunately, 'Rain' proved a commercial outlier for Cocker throughout the rest of the '70s; sales for 'Jamaica Say You Will' disappointed, and subsequent efforts such as 1976′s 'Stingray' and 1978′s 'Luxury You Can Afford' were met with a lukewarm response. In fact, for the duration of his tenure as an artist in the American label system, Cocker was essentially a singles artist whose occasional hits (1982′s 'Up Where We Belong,' a No. 1 duet with Jennifer Warnes; 1989′s 'When the Night Comes') didn't really move the needle on his album sales - perhaps partly owing to his continued unreliability in the years immediately following his 1974 resurgence.
"After we finished the album, Jim booked the Roxy for me in L.A. Everyone was there," Cocker recalled, years later. "Somebody should have kept an eye on me, but some dealer found me backstage and filled me up with cocaine. I hadn't performed live in a couple of years. I drank a whole bottle of brandy, and then went out there and got through two songs, and then I sat down on stage with a total mental block to all the words. It was rather embarrassing. Everyone just sort of closed the curtain, and said good night. That was supposed to be my return."
He worked through his struggles, however, and he's continued to record steadily, bringing his voice to bear on classic works by a growing list of artists that includes John Lennon, Leonard Cohen, Prince, Elton John, Robbie Robertson, Van Morrison, Stevie Wonder, and many, many others. His days of touring himself ragged (and/or being brilliantly mocked on 'Saturday Night Live') are over, but he remains a peerless interpreter.
"I kind of felt indestructible," recalled Cocker of his early years in a 2012 interview with NPR. "By the early '70s, the drugs and the booze took their toll. … It was a long road back. A lot of times when you're young and carefree, you don't realize, when you tip over the edge, how difficult it is to climb back in."
Having done more than his share of climbing, Cocker reflected, "You carry on doing what you do, know what I mean? Making music, if you're a real musician, you carry on, regardless in this world."
---
ultimateclassicrock.com
It seems fairly likely that the original Kiss lineup will never play another note together, but if you're feeling glum about missing out on your opportunity to see them perform live and in person, you might take comfort in the words of the band's current tourmate, Def Leppard's Joe Elliott, who thinks the band's latest configuration might be its best.
During an interview with the Atlantic City radio station WZXL, Elliott was asked for his thoughts on the continuing controversy regarding the absence of guitarist Ace Frehley and drummer Peter Criss - and whether the guys currently in Kiss (including co-founders Gene Simmons and Paul Stanley as well as guitarist Tommy Thayer and drummer Eric Singer) are bothered by the negative attention. "They're all loving this, because Tommy Thayer is a phenomenal guitar player, and Eric Singer is a great drummer," Elliott shrugged. "And the songs have never sounded as good live, as far as I'm concerned. With all due respect to Peter Criss and Ace Frehley, it seems to be a happier camp."
As for the fans who dog Kiss with cries of "cover band," Elliot mused, "I've seen some people say that [Tommy and Eric] don't deserve to be able to wear the makeup. Well, Kiss is a franchise as much as a band, or a brand and a band, and if that's what it takes to sell the band, that they wear the same makeup … Sometimes when in Vegas, in Cirque Du Soleil, if a certain character wears a certain mask and he gets sick, one of the chorus line comes in and takes over wearing the same makeup."
Ultimately, Elliott's advice is to either enjoy the music or "move on." "If you like the songs, and you've got Gene and Paul, which were always, in fairness, the two most out-front members of Kiss anyway," he concluded. "I think it still works."
---
45 Years Ago – The Beatles Take History with 'Abbey Road' Cover
ultimateclassicrock.com
The Beatles were responsible for a number of genuinely iconic album covers in their day, including a few that required a significant amount of preparation and art direction. But for the cover that might be the most iconic of them all, George Harrison, Paul McCartney, Ringo Starr and John Lennon simply walked out into the street outside their studio.
We're talking, of course, about 'Abbey Road,' the penultimate Beatles album (but last to be recorded), which took shape as the band was falling apart in 1969. An effort to get the group back on track after the fairly disastrous sessions for the 'Let It Be' project, this record found the Beatles, as Harrison later put it, feeling "as if we were reaching the end of the line." As with 'Let It Be,' the recording required a series of hard-fought compromises, and although the end result incorporated an ambitious medley that sprawled across Side Two, there are facets of the album that, under less taxing circumstances, might have evolved on an even grander scale.
In fact, during the sessions, the working title for the LP was 'Everest,' for engineer Geoff Emerick's favorite brand of cigarettes - and plans initially called for the band members to charter a private jet to the Himalayas and shoot the cover photo there. But with EMI desperate for product and the group fanning its last few creative embers, they settled on a far simpler (and closer) concept: a shot of the quartet strolling through the crosswalk outside their studio on Abbey Road. Around 11:30 a.m. on Aug. 8, 1969, with traffic blocked and photographer Iain Macmillan toting a ladder into the middle of the street, they got the whole thing done in roughly 10 minutes.
"I remember we hired a policeman to hold up traffic while I was up on the ladder taking the pictures," Macmillan later told the Guardian. "The whole idea, I must say, was Paul McCartney's. A few days before the shoot, he drew a sketch of how he imagined the cover, which we executed almost exactly that day. I took a couple of shots of the Beatles crossing Abbey Road one way. We let some of the traffic go by and then they walked across the road the other way, and I took a few more shots. The one eventually chosen for the cover was number five of six. It was the only one that had their legs in a perfect 'V' formation, which is what I wanted stylistically."
Photo in hand, Apple Records art director John Kosh opted to keep the 'Abbey Road' cover design simple - so simple, in fact, that he decided not to include the band's name or the album's title. "I thought, 'Well, this is the biggest band in the world - why would you need to do that?,'" he later laughed. "It was anticipated something coming out of the Beatles. So I decided not to put 'the Beatles' on the cover. They're walking across the - if you don't recognize them, you obviously live in a cave."
Not that the decision seemed so simple to EMI chairman Sir Joseph Lockwood, whose demeanor reflected his stuffy title. Kosh recalled receiving an irate call from Lockwood in the middle of the night. "I get a phone call at 3 in the morning saying, 'You've f—ed this up. We're never going to sell an album. You're a prick.' With a terribly, terribly good English accent — because he's a blueblood, and I'm not," Kosh continued. "I'm like really scared; I'm about 23 years old. So I go into Apple the next morning and George is there, and he said: 'Hey man, we're the Beatles - don't worry about it.'"
Sure enough, 'Abbey Road' flew out of stores even without the added labeling - and actually, the cover's all-consuming focus on Macmillan's photo may have given fans more of a reason to focus on the incidental details of the shot, such as the fact that McCartney wasn't wearing shoes, or the license plate on a car in the background reading 'LMW 281F,' or the shadowed pedestrian eyeing the Beatles' stroll from the distance. All these elements and more went down in Fab Four lore, with the first two providing proof for conspiracy theorists that McCartney had died several years earlier, spawning a stubbornly persistent rumor in the process.
The aforementioned pedestrian, an American tourist named Paul Cole, was tracked down by reporters many years later, and revealed that he'd been standing on the sidewalk simply because he didn't feel like following his wife into the latest stop on their vacation itinerary. "'I've seen enough museums. I'll just stay out here and see what's going on outside,'" he recalled saying. "I like to just start talking with people. I walked out, and that cop was sitting there in that police car. I just started carrying on a conversation with him. … I just happened to look up, and I saw those guys walking across the street like a line of ducks. A bunch of kooks, I called them, because they were rather radical-looking at that time. You didn't walk around in London barefoot."
Funnily enough, it wasn't until Cole's wife bought a copy of 'Abbey Road' that he realized what he'd been watching. "I had to convince the kids that that was me for a while," he laughed. "I told them, 'Get the magnifying glass out.'"
Over time, the crosswalk became a busy tourist attraction in its own right, drawing so many Beatles pilgrims that city officials started having to repaint the wall next to the crossing (pictured on the back cover) several times a year. More troublesome were the countless pedestrians who clogged the street, seeking to commemorate their own 'Abbey Road' cover shot. "I come here all the time and it's always been the same - it really does annoy you," one cab driver told the BBC. "All they're doing is posing on the crossing. Someone's going to get mown down one of these days, there's no doubt about it."
Today, the crosswalk has its own webcam, which you can use today to peek in on the cover's 45th anniversary celebration, which has drawn hundreds of fans. "That photo's been called an icon of the 1960s," mused Macmillan in 1989. "I suppose it is. I think the reason it became so popular is its simplicity. It's a very simple, stylized shot. Also it's a shot people can relate to. It's a place where people can still walk."
Its legacy has inspired countless imitations, and it's certainly lingered for the men who created the shot - perhaps McCartney most of all, who used a retouched version of Macmillan's photo in 1993 to create the cover for his fourth live album, the cheekily titled 'Paul Is Live.' Back in the world's most famous crosswalk, McCartney traded in his former bandmates for a sheepdog on a leash - and this time, he kept his shoes on.
---