---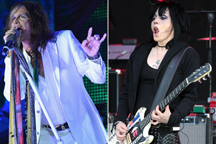 Aerosmith + Joan Jett to Headline Backyard Festival in New York City
ultimateclassicrock.com
Keeping track of the ever-expanding number of summer music festivals just got a little more difficult, thanks to the folks at LivingSocial. The location-based deals website is organizing its own event, dubbed the Backyard Festival, and they're busily lining up an impressive list of performers.
ABC News reports that Aerosmith and Joan Jett will be among the headliners for the festival, which is scheduled for July 13 at Randall's Island in New York City. While the complete lineup is still being finalized, LivingSocial is also promising "bocce ball, slides, see-saws, photo booths, art and crafts, swing sets, Giant Twister and much more."
"This is the summer backyard party to end all backyard parties," boasted CEO Tim O'Shaughnessy, vowing that "When the weather gets hot, Americans have always gathered with friends in their yards to listen to great music, eat great food, share cold beers, and create lifelong memories. LivingSocial's Backyard Festival will propel that beloved summer ritual to the next level with legendary bands, world-class cuisine, top-shelf wine and beer, and games for all ages."
The Backyard Festival will be one of only three North American tour dates scheduled for Aerosmith this summer; the band is currently set to play a Connecticut date on July 10 before heading to Randall's Island, to Japan for a brief string of dates, and back to the U.S. for a Milwaukee show on August 30. Jett, meanwhile, will be leading the Blackhearts through a full complement of dates throughout the summer and fall.
---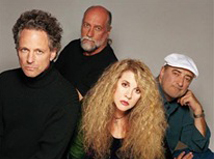 Lindsey Buckingham: 'Stevie and I Have Probably More of a Connection Now'
ultimateclassicrock.com
With Fleetwood Mac back on the road and playing new material for the first time in a decade, fans have reason to hope that the group's on-and-off momentum over the past few years might regain some measure of consistency. Those hopes should be reinforced by comments Lindsey Buckingham made in a recent interview with Rolling Stone.
Buckingham's tangled past with fellow Mac member Stevie Nicks has been a source for much of the group's creative tension (and many of its best songs) over the past 38 years, but he says on the current tour, "Stevie and I have probably more of a connection now than we have in years. You can feel it. It's tangible onstage."
Perhaps most importantly for fans, Buckingham and Nicks are still inspiring one another. "All these years later, we are still writing songs that are dialogues for each other," said Buckingham. Talking about the song 'Sad Angel,' from the band's new EP, he said, "I wrote that song for Stevie. She always had to fight for everything. She was coming off a solo album and was in the process of reintegrating herself mentally in the band, and we're all warriors with a sword in one sort or another. She and I have known each other since high school. So I just wrote, 'Sad Angel have you come to fight the war / We fall to earth together, the crowd calling out for more.'"
Audience demands may have further complicated Fleetwood Mac's internal relationships, but Buckingham said he's at peace now. "It was difficult for years to get complete closure," he admitted. "There was never any time to not be together. It was kind of like picking the scab off an open wound again and again. That's part of the legacy of the band."
In the end, wherever that legacy leads, the music they've created together remains resonant for an audience that continues to grow with each passing year. "We're doing the best business we've done in 20 years," Buckingham said about the current tour. "There seems to be a cyclical reigniting of interests, and there's certainly a lot more young people out there than three years ago."
---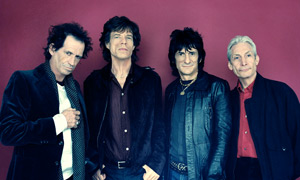 Rolling Stones Promoter Refutes Low Ticket Sales Story
ultimateclassicrock.com
Contrary to reports that the Rolling Stones '50 And Counting' Tour is struggling to sell tickets, the tour's promoter says the tour is doing just fine, thank you very much. In a new interview, John Meglen, co-president of AEG Live subsidiary Concerts West, disputes those claims

"It's unfortunate in our business that everybody wants to be cynics," he tells Billboard. "The fact is, the tour is doing great and we have no problems whatsoever."
Meglen clarifies that tickets are not being discounted as has been reported by multiple sources so far. Instead, he says that the ticket price adjustments done to the Stones show in Los Angeles and elsewhere reflect a "flex pricing" strategy aimed at keeping Stones tickets out of the hands of ticket brokers.
He also says that, over the course of the Stones four shows in Los Angeles, more than 20,000 tickets at the $600 price range were sold.
"Did we hit a point where we ran out of people that would buy at $600? Yeah. But why can't we do the 'market value' thing? Why do we have to let the market value proposition live with the scalpers? Why should, in my estimation, $3 million go to the brokers, instead of the artists, in every one of these markets?"
Meglen says another strategic move made by the Stones and AEG was making 1,000 paperless tickets per L.A. show available via the Stones' website and the group's social media sites. At $85 per paperless ticket, Meglen sets the record straight that there are no major ticket discounts happening to beef up the bottom line.
"There are no $600 tickets turning into $85 tickets, I can assure you of that," he says.
---
Paul Rodgers on Bad Company Tour: 'It's Good to Be Back Together'
ultimateclassicrock.com

It's been 40 years since the formation of Bad Company. During our conversation with band's legendary singer Paul Rodgers, the veteran vocalist acknowledges that it's been a "checkered career," but it's also been one that has been filled with numerous highlights and success.

Bad Company will celebrate their milestone on the road this summer with Lynyrd Skynyrd, whose debut album celebrates its own 40-year anniversary in 2013. The two bands have shared the stage in the past, but this summer's road trip will be the first time they've ever toured together, and it's an experience that Rodgers is looking forward to.
It's been a long 40 years, hasn't it? But we all do other things too. It was 1973 when I started to put the band together at my country home in England with [guitarist and songwriter] Mick [Ralphs]. I got the idea for the song 'Bad Company' when I saw a poster for the Jeff Bridges movie, and it reminded of an old Victorian picture that I'd once seen and it said "beware of bad company." So I sat down at the piano and started to write the song. I had a vision of the early settlers, the Civil War and the vast wide-open spaces and the lawless features of the Wild West, I think, when I wrote that.
I called Mick up, because we were thinking of names for the band, and I just said "Bad Company," and there was this scuffling noise and he said, "Sh-t, I dropped the phone — that's it!" and we were off and running from there, really.
I mean, it's been a checkered career. Because the early years, we started out when we were putting the band together in 1973. We went out [on tour] in 1974 and then we had a very strong run from then through the early '80s, and then I left to do other things. We've come back together over the years sporadically. We're doing 25 shows, and I'm looking forward to it.
---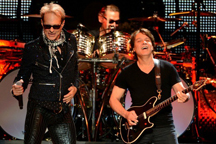 Van Halen Announce New U.S. Tour Date
ultimateclassicrock.com
Well, it isn't quite the massive slate of European dates that David Lee Roth insisted we'd be getting this summer, but Van Halen's touring machine seems to be steadily grinding back into gear.
BraveWords reports that the band has added a new date to its North American summer itinerary, bringing the U.S. leg of its 2013 tour to a whopping two shows (so far). The newly booked concert, scheduled for July 24 in Paso Robles, Calif., will find Van Halen playing the Grandstand stage at the California Mid-State Fair, an event that always seems to book an appealingly strange blend of major bands, heritage acts, and novelty performers (Bruce Willis, for example, played a set there in 1987).
Van Halen's Mid-State Fair performance will come four days after their appearance at Rock USA in Oshkosh, Wis., and roughly a month after the band spends a few days playing select cities in Japan. It's a welcome burst of renewed activity following the forced cancellation of more than 30 dates on their 2012 tour, which was cut short after Eddie Van Halen underwent emergency surgery.
Best of all, while they're dipping their toes back into the touring waters, the guys in Van Halen are also starting work on their next album — and while Roth has cautioned that it'll still probably be "about three years" before we hear the results, if there's one thing VH fans have learned to acquire over the years, it's patience.
Van Halen 2013 Tour Dates
6/18 – Nagoya, Japan
6/21 – Tokyo, Japan
6/24 – Osaka, Japan
6/26 – Osaka, Japan
7/20 – Oshkosh, Wis.
7/24 – Paso Robles, Calif.
---