---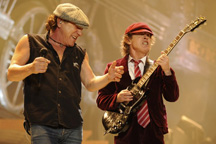 Will AC/DC's Next Tour Be Their Last?
Ultimateclassicrock.com
The trying year that AC/DC have suffered through may be too much to overcome, according to one expert. In a new interview, Jesse Fink, the author of 'The Youngs: The Brothers Who Built AC/DC,' says he believes that, between Malcolm Young leaving the band due to illness and Phil Rudd's recent arrest, they may be forced off the road for good when their upcoming tour is done.
"Angus [Young] has been the star of the show for many years now, so long as he is standing there's still an AC/DC," Fink tells the Herald Sun. "But given all the troubles this year I think this will be the final tour."
The famously tight-lipped group have not formally announced that Rudd is out of the group, but they hinted at it with a statement following his arrest saying, in part, that, "Phil's absence will not affect the release of our new album 'Rock or Bust' and upcoming tour next year." It is believed that Bob Richards, a friend of Stevie Young - himself a fill-in for his uncle Malcolm - will play drums on the tour. Fink believes that everybody in the band except Angus Young can be replaced, but admits that something may be missing in this next phase of the AC/DC's career.
"The band without Malcolm Young and Phil Rudd," he continues. "It's really chipping away at the old spirit of the band. You'd have to question whether we're really getting the authentic AC/DC experience. But the few songs we've heard from the new record sound pretty good. This band is very resilient."
Fink had a feeling Rudd's time with AC/DC may have been up when the drummer released his first-ever solo album, 'Head Job,' earlier this year. A conversation with Phil Carson, the band's original A&R man at Atlantic, clued Fink in to an important aspect of their dynamic.
"[N]o one in AC/DC had done a solo record," he adds. "Carson said the general rule they followed was you stick with the band. Anything outside the band was frowned upon. Then all of a sudden in July there was news a Phil Rudd album was coming out and it was very odd. When he did promotion for the record you saw how much he had physically deteriorated since the last tour. He looked pretty crook."
---
Are Van Halen Mixing a New Album?
Ultimateclassicrock.com
If the rumors are true - and there is now some serious doubt - then we may be hearing a new Van Halen album sometime real soon. According to Melodic Rock, "the new Van Halen album is complete and the songs recorded are now in the mixing stage." The information comes from "reliable sources," but as the site notes, "As has been the case in the past, everything concerning Van Halen this year has been shrouded in mystery and secrecy."
Apparently only Eddie and Alex Van Halen are involved in the mixing stage. However the usually very reliable Van Halen News Desk declares that this rumor is not true, and that "the fact of the matter is that Van Halen has not recorded a new album, or any new music, for that matter."
Back in July, mastering engineer Howie Weinberg posted a photo on Facebook of himself standing outside of his studio with Eddie. While the caption simply reads "Eddie Van Halen came by to visit Howie at his studio," the picture was enough to set off some new rumors about the band's follow-up to 2012′s 'A Different Kind of Truth.'
David Lee Roth has also been fueling these rumors throughout the year, hinting at new music in interviews, teasing a "great Van Halen project" that could be out early next year. As Melodic Rock notes, the secretive group announced the February 2012 release of 'A Different Kind of Truth' in November 2011, so maybe another November announcement is imminent.
The Van Halen News Desk maintains that Roth's secret project is not a new Van Halen album, but another type of release, which is apparently still in development.
---
25 Years Ago: The Grateful Dead Release Their Final Studio Album, 'Built to Last'
ultimateclassicrock.com
When the Grateful Dead released 'Built to Last' on Oct. 31, 1989, hopes were high for a successful follow-up to their big hit, 1987′s 'In the Dark.' But reviews were mixed, and the LP, which reached No. 27 on the charts, would be the final studio album released by the Dead.
As on 'In the Dark,' the band's only Top 10 LP, the band recorded "more or less live" without an audience. "But it really didn't work at all," guitarist Jerry Garcia told Relix magazine. "We tried it again - we tried at the Marin County Civic Center, and then we did the stretch up at Skywalker Ranch and what we started to discover was that our material was saying something else about itself and that approach was not going to work on this record, and that we're really looking for something else entirely different."
The band recorded the basic rhythm tracks for each song and distributed digital copies to each member. Working on their own, they added their parts, which were later mixed by Garcia and producer John Cutler.
A few months after its release, Garcia was optimistic about the LP. "I think that this record is actually tighter than the last record in terms of control. I think the thing is feeling more natural is what we're after. I think we're finally getting to it now. We're learning how to make a record that has some of that Grateful Dead quality of loose tightness, but also has all of the detail that you can have on a record."
Though two years had passed since their last album, band members admitted that production was rushed to meet Arista's Halloween 1989 release date.
"We create a deadline somewhere in the impossible, hazy future but it's a real firm deadline. And then we just ignore it," guitarist Bob Weir said in 'A Long Strange Trip.' "When the real world's-gonna-end deadline comes, we keep ignoring it until panic sufficiently motivates us to get to work. Then we make most of our records in about a month and a half. The last two weeks are particularly hellish."
"I really believe if we hadn't had a deadline imposed on us by the record company on 'Built to Last,' we probably would've gone back and done the whole thing over again more in line with how we did 'In the Dark,' bassist Phil Lesh conceded in 'The Grateful Dead Reader."
Why were the counterculture heroes intimidated by Arista's deadline? "Well, we took a big advance on that, which gave them the power."
The highlight of 'Built to Last' was its only single, 'Foolish Heart,' a cautionary tale of fickle love. Written by Garcia and Dead lyricist Robert Hunter, the track failed to crack the Top 100 but reached No. 8 on the Mainstream Rock charts.
"I don't present a song to the band until I have a basic rhythmic feel for it, the melody as I imagine it to be sung, and the chord changes," Garcia told David Gans. "The thing that's interesting about 'Foolish Heart' is it doesn't have any pads in it. Nobody's playing chords in the song. Everybody's playing lines, and the lines hook up and tell you all you need to know about the harmonic content of the song. You don't wonder where it's going. It's so beautifully designed, it's like a clock. It's really lovely. It surprised me it came out so interesting and so perfect and so totally its own personality. That's the Grateful Dead in action, really."
Garcia also contributed the title track and 'Standing on the Moon,' both co-written with Hunter. Their laid-back pace led Rolling Stone to write, "The dominance of leisurely rhythms leaves too much of 'Built to Last' verging on the frigid."
Still, Weir's 'Victim or the Crime,' written with actor Gerrit Graham, was called "indisputably the Dead's finest achievement in 15 years" by Melody Maker. "It's very dense, and it's angst-ridden to boot," Garcia told Bonnie Simmons. "It's one of Weir's stunningly odd compositions, but it's also very adventurous. It's uncompromising." The song's opening lyrics, "Patience runs out on the junkie … Whatever happened to his precious self control" was controversial in a band whose leader, Garcia, had long struggled with drug addiction. Graham wrote that Lesh, keyboardist Brent Mydland and drummer Mickey Hart argued against using the word "junkie" but the strongest objection came from Dead lyricist John Perry Barlow.
"'Weir must not - cannot - be allowed to stand up there next to Jerry and sing that line,' that was the gist of [Barlow's words]," remembered Graham. "Words like 'inappropriate' and 'unsuitable' were getting heavy workouts…So I went to Weir and suggested we throw water on the fire by changing it to 'flunky' or 'luckless' or 'jerk-off' or whatnot, but he wasn't having it, to his credit – he'd been singing the song for four or five years by then and liked it just the way it was. He did finally broach the subject with Garcia, and Jerry said, 'I don't give a f—, sing what you want.' How predictable is that?"
Weir's other song, 'Picasso Moon,' was inspired by a nonsense phrase Lesh said one day in the studio. Weir, Barlow and Bob Bralove wrote the energetic tune, which recalls Weir's 'Hell in a Bucket.' The tune is propelled by the steady beat of drummers Bill Kreutzmann and Hart.
Deadheads were surprised that Mydland, a relative newcomer with 10 years as a member, had four songs on the LP as opposed to Garcia's three and Weir's two.
"You always go with whatever your strong suit is, and in this case it was Brent that had the good songs - I mean, more of 'em," said Garcia. "I think it's more the thing of Brent's getting to be more comfortable with the band. He sees it being as much his band as everybody else's. So it's just the thing of getting over the 'new guy' thing."
Mydland had a history of depression that is reflected in downbeat songs like 'Just a Little Light' ("I had a lot of dreams once, but some of them came true / The honey's sometimes bitter when fortune falls on you"); 'Blow Away' ("A man and a woman come together as strangers / When they part they're usually strangers still") and 'We Can Run,' an indictment of the Earth's polluters ("But we never tend the garden and rarely we pay the rent / Some of it is broken and the rest of it is bent").
Barlow, who co-wrote the songs, said he hoped to give the keyboardist a reason to live by contributing lyrics to his music. Many critics liked 'I Will Take You Home,' a poignant lullaby to Mydland's daughters that evokes the music of the Eagles.
Less than a year after the album's release, Mydland was found dead of a drug overdose at the age of 37. Mydland's death and the lukewarm response to the LP may have ensured that 'Built to Last' would be the Dead's final studio album. They carried on as a live act with Vince Welnick as his replacement until Garcia's death on Aug. 9, 1995.
A 2004 reissue of 'Built to Last' included live versions of Rodney Crowell's 'California Earthquake (Whole Lotta Shakin' Goin' On),' 'Foolish Heart' and 'Blow Away.'
---
Furthur Break Up, Fueling Grateful Dead Reunion Rumors
ultimateclassicrock.com
As the Grateful Dead's 50th anniversary approaches, Furthur, the band formed by the Dead's Bob Weir and Phil Lesh, have called it quits. And the news is fueling rumors that the Dead may reunite next year to celebrate their golden anniversary. Furthur announced their breakup on their website, writing, "To our loyal Furthur fans and members of the Furthur community at furthur.net, we'd like to thank you for a terrific ride. We'll be closing up shop at furthur.net, and heading onward. Thanks for making the Furthur community a great place to hang out, and for coming out to the shows. We'll all be keeping very busy over the foreseeable future, and it's time to let Furthur take a bow. We enjoyed the ride more than we can possibly express."
Weir and Lesh first got together as Furthur five years ago as a way to foster both the Dead's music and their spirit. They were a favorite on the festival circuit, where they played sets loaded with classic Dead songs as well as new tunes that embodied the legendary group's ethos.
But why exactly are they "closing up shop"? Rumors have been spreading for months now that the Dead's surviving members may reunite next year for their 50th anniversary. And by breaking up the one band that came closest to offering fans a real Dead experience, are Weir and Lesh prepping for a reunion? That seems to be the general consensus.
Even the group is up for it. Back in January, Weir told Rolling Stone that "we have to do something commemorative, I think we owe it to the fans, we owe it to the songs, we owe it to ourselves." Sure smells like reunion talk to us.
---