---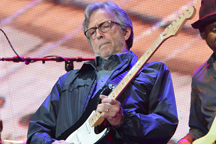 Eric Clapton Confirms Retirement
Ultimateclassicrock.com

Legendary guitarist Eric Clapton has again said that he is thinking of quitting touring, attributing his decision to the road being "unbearable" in addition to "odd ailments" that may force him to put down his guitar permanently.
As reported by NME, Clapton makes these bold proclamations in the August 2014 cover story of Uncut Magazine. "The road has become unbearable. It's become unapproachable, because it takes so long to get anywhere. It's hostile - everywhere: getting in and out of airports, travelling on planes and in cars," Clapton says in the interview.
"There are tons of things I'd like to do, but I'm looking at retirement too. What I'll allow myself to do, within reason, is carry on recording in the studio. I don't want to go off the boil to the point where I'm embarrassing myself."
Clapton admitted that his health could factor into his decision, adding, "Maybe. It might be that I can't, if it hurts too much. I have odd ailments." Last year, Clapton canceled several shows due to back pain.
Earlier this week, Clapton was booed at a show in Glasgow after cutting his concert short due to technical difficulties. And while Clapton's comments in the Uncut interview may spark some worry among his devoted fans, this certainly isn't the first time that Clapton has spoken of his imminent retirement from the road. In February 2013, he spoke of wanting to retire from the road when he turned 70, which just so happens to be on March 30, 2015.
During the course of his interview with Uncut, Clapton also takes the opportunity to shed some light on the status of Cream:
"I haven't spoken to Jack [Bruce] or Ginger [Baker] for quite a time. I don't think there's been any line of dialogue between any of us - or between me and them, that is to say - since the American affair [the trio's Madison Square Garden shows in 2005]," Clapton says. "After that I was pretty convinced that we had gone as far as we could without someone getting killed. At this time in my life I don't want blood on my hands! I don't want to be part of some kind of tragic confrontation."

Read More: Eric Clapton Says Touring Has Become 'Unbearable,' Confirms Retirement Plans | http://ultimateclassicrock.com/eric-clapton-retire/?trending&trackback=tsmclip
---
KISS Reality Show Set To Begin in August
Ultimateclassicrock.com
'4th and Loud,' the AMC reality show which will follow the inaugural season of the L.A. Kiss Arena Football League team, will make its television debut on Aug. 5 at 10:00PM. That means Kiss fans should expect to see L.A. Kiss co-owners Gene Simmons and Paul Stanley plenty of times over the course of the series' 10 hour-long episodes.
The OC Weekly reports that in addition to boasting of the on-screen star-power of Simmons and Stanley, longtime Kiss band manager Doc McGhee, L.A. Kiss Managing Partner Brett Bouchy and President Schuyler Hoversten will also be appearing on the show.
Behind the scenes of '4th and Loud' is the bulk of the same team that was responsible for the rather successful 'Gene Simmons Family Jewels,' which enjoyed a seven-season run on A&E.
The ultimate shared goal of the team, per AMC's press release, is to "turn L.A.'s first professional football team in years into a winning franchise." L.A. Kiss isn't having the best of luck fulfilling that goal just yet: the team has a 3-10 record, having won their games against the San Antonio Talons as well as a pair of victories over the Portland Thunder. Perhaps they'll have better luck next year, when the Vince Neil-owned Las Vegas Outlaws has their inaugural season.
Read More: Kiss Football-Related Reality Show Debuts On Aug 5 | http://ultimateclassicrock.com/kiss-reality-show/?trackback=tsmclip
---
Ultimateclassicrock.com
We've got Ted Nugent on the phone and he greets us by saying "Ted Nugent here — Happy summertime, happy barbeque season!"
There's no mistaking that voice and we know for sure that "Uncle" Ted Nugent is on the line and clearly he's ready to talk about 'Shutup&Jam,' his latest opus, which comes armed appropriately enough with a provocative title that tells you all you need to know — at 65 years of age, Uncle Ted isn't backing down one bit. He's got a new set of knees, a fresh set of songs and he's back to kick your ass with his guitar and if you don't listen closely, you might see his bow and arrow come out.
He sat down with Ultimate Classic Rock to talk all about the new album, which hits stores on July 8 via Frontiers Records. The Nuge is rarely at a loss for words and he had plenty of thoughts to share with us.
It's been way too long since there's been a Ted Nugent album. I think the world is ready for a new album from Uncle Ted.
We are so proud of this, man. Be sure you give an enormous big old barbeque greasy salute to all of my blood brothers of rhythm and blues and rock and roll sonic bombast. I mean, Derek St. Holmes, Greg Smith, Mick Brown and Jon Kutz — this new amazing drummer from Waco, Texas — and Johnny "Bee" Badanjek, my dream drummer from Detroit and of course, Sammy Hagar and Michael Lutz of Brownsville Station and everybody that really focused on the sound and the quality and the authenticity and the authority of real bass drums, guitars, vocals and the soulfulness of the gods that inspired us. We are so proud of this record.
I know you've already been playing the title track live. Will you get some other tunes into the set? 'Fear Itself' sticks out as one that would be great to hear.
Tommy Clufetos, who played on 'Craveman' and 'Love Grenade,' just an unbelievable drummer from Detroit…boy, do I have the world's greatest drummers in my band or what? But Tommy, when he was playing with me and he heard some of these songs, he said, "Ted, every song you've ever done, every Ted Nugent composition, is the ultimate opening concert song and the ultimate encore. It doesn't matter where you put 'em. They're all crescendos!" I think this album is wall-to-wall crescendos, because it's [sourced from] 65 and a half years [of being] clean and sober and my life is a crescendo.
Except for my knees and the government, my life is so perfect that it's defied gravity. I'm the happiest guy that you'll ever talk to and I'm surrounded by the greatest people in the world, from my band to my crew, my management, my 'Spirit of the Wild' production team, our 'Sunrize Safari' guides and outfitters, are just the world's greatest hard-working heart and soul masters of work ethic and conscientiously demanding of themselves, excellence in everything they do and that's why this record has such authority and such believability and such spirit and such emotion.
The thing is, I know it's been seven years since I recorded a studio album, but my God, do I have a bunch more songs like this. I'm telling myself every day and I hope I obey me, but I'm telling myself that I've got to get back to the studio within the next year or at least the next year and a half and capture some of these other monster grinding soul music masterpieces, because the songs are so inspiring. They're so stimulating. I just put my guitar down 15 minutes ago and the new songs, I just can't wait to record them. But I'm concentrating on the 'Shutup&Jam' songs right now, since we're going out on the road to play them.
Now that you've got new knees, can we tack another 100 years onto your schedule?
God help us all! There will be no more amplifier leaping. No more riding of American bison on the stage. I'm still capable of some pretty grinding shimmies on stage. I proved that two weeks ago in Sweden and there was no shortage of energy. I'm not able to leap about like I used to. I'm hoping that the new knees will get to the point where I can get my dancing shoes back on. But for right now, the energy and the spirit of the music is so inspiring, every song, every concert, every night and every day. I'm sure I've got a whole bunch more in me. Before August 16 of this year, I will have performed 6,500 concerts, so who knows what's in the future.
You made this new record in Texas. Folks know you as a longtime Michigan guy. How did you wind up in Texas?
Well, it's a series of events out of our control. Our beautiful home in Michigan was destroyed by this toxic black mold and my wife became very, very sick. I was sick as well. Our house was uninhabitable and the only clinic that would treat my wife was in Dallas, Texas. So we came down here literally for her life or death treatment, because her blood had been [poisoned] by this mold.
We were basically homeless in 2002 and we decided to stay in Texas because it's a great place for rock and roll. I've been rock and rollin' down here since '67 or '68 and these people really know their music. Not that any place else doesn't, but there's a real soulfulness to music appreciation in Texas, plus I hunt here every year — it's got great hunting.
Plus once I looked into it, the freedom that individual citizens have in Texas is more profound and more diverse than anywhere I can find, so we decided to stay. We've become Texas residents now for nearly 13 years and I'll never look back. I'll always be a Michiganian, you know what I mean? I mean, I love my Michigan roots, but the freedom here in Texas is just the ultimate.
You've mentioned that you got some Michigan flavor onto this record. You've got Johnny Bee drumming on a couple of tracks. Did you record any other stuff with Johnny that didn't make the record?
No, just the two songs. He obviously killed on both of them - they're both take-one masterpieces, because he's a consummate professional, plus anything he drums on just turns into a hyper-cranking masterpiece. But he and I did a lot of talking and hugging and we talked about this for geez, almost 50 years now.
So at least we got these two songs done. But because Jon Kutz is such an amazing drummer and Mick Brown is such an amazing drummer and all of my musicians are such amazing musicians, I could go and live in the studio forever and never leave, just collaborating with the unbelievable talent that surrounds me everywhere I go. So we just ended up improvising and recording those two songs and he did such an amazing job.

Read More: Ted Nugent Talks About His New Album, Fighting 'An Army of Haters,' and Bad Mexican Food | http://ultimateclassicrock.com/ted-nugent-interview-2014/?trackback=tsmclip
---
Crosby, Stills, Nash & Young Contemplate "Deja vu" Reissue
Crosby, Stills, Nash & Young fans eagerly anticipating the July 8 release of 'CSNY 1974' live set may have more in the way of reissues to look forward to.
Rolling Stone reports that after having spent the last few years working on 'CSNY 1974,' Graham Nash has turned his attention towards the group's seminal 1970 record 'Deja Vu' as his next potential project.
"I'm toying with the idea of redoing the 'Deja Vu' album. When we made the album we were restricted by the technicalities of how many minutes you can get onto a side of vinyl without having to compress everything. It meant we had to fade everything out," Nash says.
Seeing how those limitations are now virtually non-existent in today's modern age, Nash says, "I thought to myself, 'I'd like to hear 'Carry On' without it fading.' I want it to go all the way to the end when Dallas [Taylor] put his drumsticks down. I want to hear the jam we did at the end of 'Everybody I Love You.' I might talk to the boys about doing the entire 'Deja Vu' without fading any of the songs."
Not long after 'Deja Vu' was released in March 1970, Crosby, Stills, Nash and Young performed several concerts at famed New York venue Fillmore East. Those shows were professionally filmed, but only snippets of some of the performances have been seen by the public. Could that footage possibly make its way into, say, a Super Deluxe Edition of 'Deja Vu?'
"That's an entire other project," says Nash. "Those shows we did at the Fillmore East were absolutely the best shows we ever did in our lives and that's all been filmed. It's just a question of whether we have the time and desire to put them out."

Read More: Crosby, Stills, Nash & Young Contemplate 'Deja Vu' Reissue | http://ultimateclassicrock.com/crosby-stills-nash-young-deja-vu-reissue/?trackback=tsmclip
---