---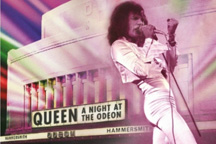 Queen Schedule Release Date for 'A Night at the Odeon: Hammersmith 1975′
Ultimateclassicrock.com
A classic Queen concert is coming home in time for Christmas.
Queen – A Night at the Odeon – Hammersmith 1975, a heavily bootlegged set that captures the final date of the band's U.K. tour in support of their 1975 album A Night at the Opera, is scheduled make its official arrival on multiple formats Nov. 20. The show, which marked the live debut of the band's "Bohemian Rhapsody" while the song was in the midst of its nine-week reign atop the U.K. charts, remains a pivotal moment in Queen's history.
"This concert was very special because it was the first time we ever played a whole show completely live on TV … the Christmas Show," guitarist Brian May reflected in a press release. "The quality, after great rescue work and transfer into the digital domain, is amazing. And the energy we had comes across very forcefully."
Plans call for Queen – A Night at the Odeon – Hammersmith 1975 to be released on CD, DVD, Blu-Ray, vinyl and digital formats, as well as a super-deluxe box set edition. Audio formats feature three additional tracks recorded by the band's sound team after the film crew packed up before the show was completely finished. Though recordings have circulated among fans for years, this marks Odeon's home market debut — and a recent screening served as the first time May had watched the footage in years.
It was very weird," he told Rolling Stone after watching the footage. "It seems like watching another person, that young boy. I look so thin! I look very serious and the body language is so different now – I was quite shy in those days. There was a lot of noise and energy in the playing, but my body is different from the way I am now. These days I feel a channel in the body towards the noise that's coming out, but in those days it looks like it just comes from nowhere."
Recalling "a lot of adrenaline" and "a lot of joy" at the date despite an illness that had befallen drummer Roger Taylor, who he thinks threw up after the gig, May bemusedly contrasted the crowd in A Night at the Odeon with the concertgoers the band sees today. "In those days, people went to a rock show to listen – and to jump about and scream and shout, but not to sing every word like they do now," he observed. "And there's nobody with mobile phones in the audience, nobody doing selfies – how weird is that?"
Queen, A Night at the Odeon – Hammersmith 1975 is available for pre-order now. Check out the complete track listing below.
Queen, 'A Night at the Odeon – Hammersmith 1975′ Track Listing
"Now I'm Here"
"Ogre Battle"
"White Queen (As It Began)"
"Bohemian Rhapsody"
"Killer Queen"
"The March of the Black Queen"
"Bohemian Rhapsody (Reprise)"
"Bring Back That Leroy Brown"
"Brighton Rock"
"Son and Daughter"
"Keep Yourself Alive"
"Liar"
"In the Lap of the Gods… Revisited"
"Big Spender"
"Jailhouse Rock Medley"
"Seven Seas of Rhye"
"See What a Fool I've Been"
"God Save the Queen"
---
10 Years Ago: Tommy Lee Burned by Pyrotechnics During Motley Crue Concert

Ultimateclassicrock.com

Mötley Crüe drummer Tommy Lee has a well-documented love of playing under extreme conditions, and it's gotten him in trouble a few times — including on Oct. 12, 2005, when a pyrotechnics stunt gone wrong sent him to the hospital and cut the band's show short.
Billboard reported on the incident, which took place during a visit to Casper, Wyo., and occurred fairly late in the band's second set. According to a reporter on the scene, "Lee appeared to be injured when sparks began flying as he swung above the stage suspended from a wire, back and forth between several drum sets."
Suffering from "superficial burns on his arms and face," Lee tried toughing it out and finishing the rest of the show, but as singer Vince Neil told People, "He didn't look good while the paramedics were treating him backstage, so we chose to err on the side of caution and send him to the hospital."
Fortunately, Lee's injuries were nowhere near as serious as they could have been; after a brief visit to the Wyoming Medical Center, he was released, and got himself back behind the kit in time for the band's next tour stop in Bismarck on Oct. 14.
As many Crüe fans are aware, this wasn't the first time one of Lee's stunt went awry and ended a show early. In 1990, he narrowly dodged another scary injury when he fell during one of his "flying drum solos" and took a 20-foot spill onto his head. As anyone who's watched his current "Crüecifly" drum stunt can attest, neither incident was enough to slow Lee down.
---
Rolling Stones' Tour Rider Sounds Like the Recipe for an All-Night Party

Ultimateclassicrock.com

Doctors and scientists say older people need less sleep — and if TMZ is right about the Rolling Stones' tour rider, we have a pretty good idea of how the band members are using those extra waking hours on the road.
Once one of rock's most infamously hard-partying bands, the Stones have presumably mellowed a little over the years, but according to the gossip site, their backstage demands read like a list of ingredients for an all-night party — starting with their insistence that "wherever the band stays, illegal or not — the place better figure out a way to keep the booze flowing."
Other "kick-ass requests" turned up by TMZ include blacked-out windows ("so they can party as long as they want"), extra waitstaff to accommodate out-sized room-service orders, 24-hour dry cleaning, Marlboro Reds and Lights cigarettes and a written list of instructions explaining how to operate the electronic equipment in their rooms.
The Stones' riders have been a frequent subject of investigation over the years, and recently it was revealed that they require "two smartly dressed, well-groomed hostesses" to serve food in their catering room, as well as specific flower arrangements and room to set up their traveling snooker table.
It's worth noting that, according to the band, its demands are relatively simple, especially taking into account the fact that they travel with a 300-member organization whose efficiency is reportedly the envy of the touring circuit. As Charlie Watts told the Australian press prior to the Stones' most recent dates Down Under, "I don't have a rider. I think they're silly. I hate having people around me, except my wife and daughter."
---
David Bowie Has Reportedly Retired From Touring
Ultimateclassicrock.com
David Bowie has been relatively busy on the recording front in recent years, but he may have turned his back on touring for good.
That's the word anyway from U.K. concert promoter John Giddings, who's quoted as saying that Bowie told him personally he's retired from the road. "David is one of the best artists I've ever worked with," he explained. "But every time I see him now, before I even speak to him, he goes, 'I'm not touring' and I say, 'I'm not asking.'"
Giddings, whose impressive list of professional credits includes promoting the Isle of Wight festival and a lengthy association with Bowie that dates back to his 1987 tour, argued that at this point, Bowie's earned the right to do as much or as little as he'd like. "He has decided to retire and, like Phil Collins, you can't demand these people go out there again and again and again," he added. "I'm really pleased and proud that the last show he ever did in the U.K. was the 2004 Isle of Wight Festival."
If Bowie's truly retired — and ends up staying that way — he will have ended his career as a traveling live performer with one of his longest-ever tours. His most recent outing, a 113-date run booked in 2003-04 in support of his Reality LP, ended prematurely after a blocked artery forced the cancellation of the tour's final month, meaning Bowie's last-ever tour stop may have taken place on June 25, 2004.
---
Rolling Stones Live Albums, Ranked Worst to Best
Ultimateclassicrock.com
Let's face it: Most Rolling Stones live albums sound like quick cash-grabs or stop-gaps between studio records. For every Get Yer Ya-Ya's Out! there are two or three No Securitys. Few bands have damaged their stage legacy as much as the Stones.
But then again, how often do live albums really get to the heart of a group? In the Stones' case, they felt the need to chronicle almost every one of their tours on record once they proclaimed themselves the greatest rock 'n' roll band on the planet. So that means every single bump along the way — the drugs, the bloat, the greed — seep through to the records.
That also means there are some truly inspired performances — like 1970's historic Get Yer Ya-Ya's Out! (when the Stones truly were the greatest rock 'n' roll band on the planet) and even an album as late as 1995's Stripped, in which they ripped away all the drugs, bloat and greed for one brief moment.
From their first, vibrant (but barely discernible) live recording to latter-day cash-ins, we take a look at the band's various concert LPs over the years in our list of the Rolling Stones' Live Albums, Ranked Worst to Best. Check it out above.
Note: We've included the records that have been given full and proper release over their career, omitting albums from the From the Vault series, which has yielded official versions of oft-bootleg shows like The Brussels Affair, which was recorded in 1973, and Hampton Coliseum (Live 1981).
---