---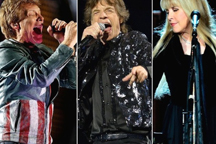 Bon Jovi, Rolling Stones, Fleetwood Mac Among Richest Rockers
Ultimateclassicrock.com
Bon Jovi, the Rolling Stones and Fleetwood Mac were among the Top 10 money makers for 2013, based on touring, music sales, publishing royalties and streaming revenue for the past year.
Billboard magazine's comprehensive list of the richest rockers also had Paul McCartney, the Eagles, Elton John and Rush in the Top 40.
Bon Jovi finished highest among classic rockers, at No. 4 with $29.4 million in total revenue last year. The Stones followed at No. 5 with $26.2 million. Fleetwood Mac rounded out the Top 10 with $19 million. Paul McCartney (2013 Earnings: $13.8 million) came in at No. 21, the Eagles ($13 million) followed at No. 22. Elton John ($9.4 million) finished at No. 33, with Rush ($9 million) at No. 35.
Bon Jovi's "Because We Can" tour finished as the top-grossing concert series of last year, pushing the band to the top of that list for the three out of the last six years. Bon Jovi had 1.5 million downloads, even while releasing 'What About Now' in 2013, topping the Billboard album charts for the fifth time.
Meanwhile, the Rolling Stones cashed in, despite mounting a very limited run of 2013 shows in North America, averaging $4.7 million per show. The band added two new songs to its most recent greatest hits package, and boasted some 1.5 million track downloads. Fleetwood Mac played 34 cities, including a three-night stand in London that saw the return of long-time member Christine McVie. A new EP, called 'Extended Play,' also reached the Billboard Top 50.
Billboard's Top 10 Money Makers for 2013
1. Taylor Swift: $39.7 million
2. Kenny Chesney: $34 million
3. Justin Timberlake: $31.5 million
4. Bon Jovi: $29.4 million
5. Rolling Stones: $26.2 million
6. Beyonce: $24.4 million
7. Maroon 5: $22.3 million
8. Luke Bryan: $22.1 million
9. P!nk: $20 million
10. Fleetwood Mac: $19 million
---
Kiss Sued For Unpaid Royalties By Eric Carr's Family
Ultimateclassicrock.com
The family of the late Eric Carr, former drummer for Kiss, has filed a lawsuit against the group alleging that they are not being paid their proper royalties. Carr joined the band in 1980 after original drummer Peter Criss was booted out, and stayed with them for the next decade and eight studio albums. Eventually, health problems forced him out of the group. Carr died in November of 1991 after suffering a brain aneurysm following a battle with cancer.
The heirs of Carr's estate claim that Kiss founders Gene Simmons and Paul Stanley have been less than forthcoming concerning royalties dating back to the time of the drummer's death. According to the New York Post, the lawsuit states that they are entitled to somewhere between a five and 50 percent cut on four songs written by Carr - including 'Carr Jam 1981' and 'Little Caesar.'
Apparently the family originally thought all the royalties should be coming from one source only, the publishing company ASCAP. They reportedly discovered that payments should have also been coming from two publishing firms, as well as Gene Simmons Worldwide Inc. "They thought they were getting it all from one source," Robert Garson, the estate's attorney, told the Post. Garson also claims to have discovered discrepancies in payments dating back to 1989, prior to Carr's death. Kiss declined requests for comment from the New York Post.
---
Queen + Adam Lambert Announce 2014 North American Tour
Ultimateclassicrock.com
As we hinted last week, Queen and Adam Lambert will tour North America this summer. The complete list of dates can be found below. Lambert, Brian May, Roger Taylor and supporting musicians will play 19 dates over the course of a month beginning June 19 at Chicago's United Center. They will have hit major venues in 18 cities (Las Vegas gets two shows) across the United States and Canada by the time they wind it up on July 20 at Merriweather Post Pavilion in Columbia, Md., which is located between Washington, D.C. and Baltimore.
"I'm completely in awe of the Queen phenomenon," Lambert said via press release. "The thought of sharing the stage for a full set in North America is so beautifully surreal. I'm honored to be able to pay my respects to Freddie's memory; he's a personal hero of mine, and I am deeply grateful for the chance to sing such powerful music for fans of this legendary band. I know this tour will be a huge milestone for me, and with the support of Brian, Roger and the rest of the band, I feel like magic will be on display."
"Let's rock those beautiful arenas just one more time," May added.
Tickets go on sale March 14 at Livenation.com and through their mobile platforms. American Express card members will have access to a pre-sale beginning March 10 at 10:00AM for the U.S. dates and March 11 at 10:00AM for the Canada dates.
Queen + Adam Lambert 2014 North American Tour
6/19 - Chicago, Ill.
6/21 - Winnipeg, Manitoba
6/23 - Saskatoon, Saskatchewan
6/24 - Edmonton, Alberta
6/26 - Calgary, Alberta
6/28 - Vancouver, British Columbia
7/1 - San Jose, Calif.
7/3 - Los Angeles, Calif.
7/5 - Las Vegas, Nev.
7/6 - Las Vegas, Nev.
7/9 - Houston, Texas
7/10 - Dallas, Texas
7/12 - Detroit, Mich.
7/13 - Toronto, Ontario
7/14 - Montreal, Quebec
7/16 - Philadelphia, Pa.
7/17 - New York, N.Y.
7/19 - Uncasville, Ct.
7/20 - Columbia, Md.
---
Ozzy mansion 'ruined' in floods
Classicrockmagazine.com
Ozzy Osbourne's Buckinghamshire mansion was among the homes badly damaged during England's recent extreme weather, he's revealed. Around 6000 homes were swamped by heavy rain during the wettest winter on record, with the average repair bill estimated at 30,000. But Osbourne and wife Sharon face a payout of ten times that sum - even though they won't be allowed to start work until the end of the year.
The Black Sabbath frontman tells the Daily Mail: "It's been completely flooded. The rain has battered down the walls and seeped through everything. There's water everywhere.
"We've been told it's going to cost 300,000 to repair - but we can't go about getting it fixed because it's going to take nine months to dry out.
"The place is ruined."
The Osbournes have relocated to their LA home until the fix-up job can be completed.
---
Perry says Nope to Journey reunion rumour
Former Journey singer Steve Perry has said "Nope" to the question of a reunion in a bid to end speculation that he might get back together with his old band. Rumours began circulating once again as Perry returned to the limelight after several years of withdrawal, following his dismissal in 1998. He recently reported he was working on what will be his first solo album since 1994's For The Love Of Strange Medicine.
But asked outright about the chances of a reunion at the weekend, he told Mingle Media: "Absolutely a false rumour. You're hearing it from me: Nope. That's a rumour."
He'd previously said he'd been inspired by the work of bands who mix classic rock and electronic music, namechecking Muse and Imagine Dragons. Asked about his new material he said: "It's beautiful, very inspirational, with orchestrations," and added he'd "love that" if it was released this year.
Journey management last month moved to dismiss speculation that the current lineup was experiencing difficulties with singer Arnel Pineda, insisting: "All is well in the Journey camp."
It's thought Perry and guitarist Neal Schon are aiming to put their differences behind them as a separate issue - last month Perry said: "I'm doing my best in that area and I can only do so much," although at the time his comment was taken to refer to working together again.
---