---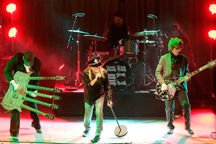 Cheap Trick Announce Tour for 2014
ultimateclassicrock.com
During their 40 years as a band, Cheap Trick have been on the road more than they have been at home. And 2014 looks to be shaping up in much the same way.
The band has announced a batch of tour dates for the first part of the new year. Earlier this year, guitarist Rick Nielsen told Time, "We play as much as we can. If we waited for a hit record to tour, we would never have toured. No record? We go on tour. New record? On tour. Hit record? Flop record? Always tour."
While there's been some talk of a new record, Cheap Trick are currently in the middle of a lawsuit with former drummer Bun E. Carlos, who sued his onetime bandmates earlier this year, claiming he was forced out of the group. In September, the band fired back and counter-sued to have Carlos "removed as a corporate director" of the inner workings of the band.
Still, this tangled legal mess won't keep the band from doing what it does best: delivering total rock action on concert stages. More shows will most likely be announced before this tour ends. Check out ultimateclassicrock.com for dates and cities.
---
45 Years Ago: Cream Perform Farewell Concert
ultimateclassicrock.com
After just over two years as a band, Cream gave their final performance on Nov. 26, 1968. The concert was held at the Royal Albert Hall In England. Cream's decision to disband took fans by surprise, though simmering tensions within the band, primarily between Jack Bruce and Ginger Baker, came to a head, as Eric Clapton was losing interest in the band. They embarked on a 'farewell tour' of 19 cities in the US before the two night stand finale, Nov. 25 & 26, at the Royal Albert Hall.
The concerts were recorded and broadcast by the BBC in early 1969. The recordings were to serve as part of the band's final album. Planned as a double album, with half recorded live and half in the studio, the idea was scrapped in favor of a single LP with one side live and one side previously unissued studio material. Issued as 'Goodbye,' the live selections were taken from a show at the L.A. Fourm. A concert film followed a decade later.
The band were apparently unhappy with those final shows and even die hard fans admit it wasn't the band at the peak of their powers. In the documentary, 'Cream: Classic Artists,' Baker said "It wasn't a good gig. Cream was better than that. We knew it was all over, we knew we were just finishing it off."
Opening acts on the various tour dates included Rory Gallagher's Taste, Deep Purple and the newly formed Yes. Cream finally reunited in 2005 for a series of shows in the UK and US, which were a huge critical and financial success.
---
Neal Schon's Wedding Will Be Televised
Ultimateclassicrock.com
One of the more bizarre courtships in recent rock history will arrive at its fitting conclusion on Dec. 15, when Journey guitarist Neal Schon and his reality-TV bride Michaele Salahi are scheduled to be wed in a televised extravaganza that's being titled 'Neal & Michaele: The Winter Wonderland Wedding and Music Event.'
As many readers no doubt recall, Schon and Salahi's whirlwind affair became public knowledge in 2011, when her husband told police she'd been kidnapped, only to discover that she'd actually decided to join Schon on tour. The clandestine lovebirds had reportedly been carrying on a secret two-year affair, but once it went public, there was no turning back - much to the chagrin of Salahi's soon-to-be-ex-husband and Schon's blindsided wife of two months.
As it turns out, Schon and Salahi enjoy sharing the spotlight. They canoodled in a Journey video, he proposed to her onstage and they've been basically inseparable since the "kidnapping" fiasco went public, so it comes as no surprise that they've decided to turn their nuptials into a pay-per-view television special.
"Everyone at the networks wanted to put their own creative spin on the event," explained Schon in a press release. "Michaele and I discussed it, and we decided to hire a great crew and do the whole thing ourselves because this is really our day. What's surprising is that no one had ever thought to do anything like this before we did."
'Neal & Michaele: The Winter Wonderland Wedding and Music Event' will take place at San Francisco's Palace of Fine Arts, marking the first time the city landmark has been used for a wedding. "We searched the world for the perfect location, and finally I said to Michaele, 'San Francisco is my home. Now it is our home. I want to be married there, in the most beautiful city in the world, to the woman of my dreams," enthused Schon. "Everyone said they wouldn't let us have the wedding there, but when our wedding planner took my passionate plea to the management, they said yes. We couldn't be more happy!"
The special, scheduled to kick off at 8PM EST, will be hosted by hosted by Debbie Matenopoulos, Cameron Mathison and Karyn Bryant. Watching it all go down live will cost you $14.99, but it might be worth tuning in just to see if the Obamas decide to crash the reception.
---
Bon Jovi May Purchase Buffalo Bills
ultimateclassicrock.com
Sunday was a typically news-filled day for football lovers, but the biggest story of the weekend for music fans may have taken place off the field. Reports are circulating that Jon Bon Jovi is looking to buy the Buffalo Bills.
According to CBS Sports, the team will go up for sale upon the death of 95-year-old Ralph Wilson, who founded the Bills in 1960. Bon Jovi has reportedly been schmoozing National Football League officials and other powerful people in the sports business to put himself in prime position to make the purchase. However, it is believed that the front-runner for the position is Canada's Rogers Communication Group, since the team plays a game in Toronto every year.
Bon Jovi has some experience in owning a football team. In 2004, he became a co-owner of the Philly Soul in the Arena Football League. The Soul won the championship in 2008, after which the league suspended operations for one year. The team was revived, without Bon Jovi's involvement, in 2011.
The Buffalo Bills currently sit in last place in the AFC East with a 4-7 record.
---
Bruce Springsteen "High Hopes" Song Review
High Hopes' is his incendiary new single from the album of the same name, due Jan. 14 of next year. It was first recorded by the E Street Band eighteen years ago, during the sessions for their 'Greatest Hits' package. It was first released five years before THAT on the debut album from LA roots rock band the Havalinas and written by their lead singer Tim Scott.
It's a long strange trip for a song that sounds like it was written ten minutes ago. Like Elvis Costello on his recent release with the Roots, 'Wise Up Ghost,' Springsteen has looked backward to find a way forward. It may have been written more than twenty years ago, but lyrically, 'High Hopes' is as contemporary as tomorrow's newspaper and continues themes Springsteen explored on his 2012 release 'Wrecking Ball.' It's a song about the struggle to find hope in a culture dominated by greed and selfishness.
Musically, Springsteen has brought the full fire of the modern incarnation of E Street into the studio for the first time. He's had plenty of great records since the dawn of the "Reunion Era," which began back in 1999 as the original band members gathered together for their first tour since 'Tunnel of Love.' On albums like 'Magic' and 'Working On A Dream,' the sound has been assembled piecemeal, with a handful of core band members creating the foundation and other E Streeters laying their parts on top.
Recorded during the band's Australian tour earlier this year, 'High Hopes' is as live and immediate as it gets. The E Street Horns and backing singers from the Wrecking Ball tour add texture and bite to the track. At its foundation are E Street fundamentals - the relentless piano of Roy Bittan, Max Weinberg's drums filling the pocket but escaping for gulps of air at every opening.
And then there's Tom Morello. He's been a guest player with Springsteen and the band for a while, and appeared on 'Wrecking Ball.' This time, it was more than a typical "stroll in, lay down solo, get lunch" session. He's responding to the band and vice-versa. His guitar's a frickin' laser slicing across the E Street sound, adding even more urgency to a band that already plays as though its life depends on every note.
It may seem easy to dismiss 'High Hopes.' The complaints have already been loud from the Springsteen faithful - "It's a cover, not a new song! It was already out in 1995! Who is this Morello kid, anyway?! Get offa my lawn!"
Emperor Palpatine said it best: Release your anger. Let go of your preconcieved notions. Listen to the music and hear what is there. It's one of the most fiery Springsteen tracks of the modern era. If this is what we can expect from the album, there's plenty of reason for high hopes.
---