---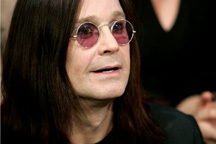 Eddie Van Halen on Michael Anthony: "I Had to Show Him How to Play...I Have More Soul as a Singer"
Ultimateclassicrock.com
Eddie Van Halen says he's still enduring the ups and downs of his working relationship with David Lee Roth because it's what the fans want. The fans who want bassist Michael Anthony back in the lineup, however, are out of luck.
Anthony's dismissal remains a point of contention for longtime listeners who still want to see the original Van Halen quartet play together again and who continue to miss his distinctive harmony vocals in the group's sound. But in a new interview with Billboard, Eddie asserts that Anthony is neither the musician nor the singer that people seem to think.
In fact, he claims Anthony wouldn't have been able to hack any of Van Halen's songs without a lot of painstaking instruction. "Every note Mike ever played, I had to show him how to play," he insisted. "Before we'd go on tour, he'd come over with a video camera and I'd have to show him how to play all the parts."
And as far as those who wish Anthony was still adding those high harmony vocals of his to the Van Halen sound? Eddie argues you aren't missing as much as you think. "Mike's voice is like a piccolo trumpet. But he's not a singer. He just has a range from hell," said Van Halen. "Mike was just born with a very high voice. I have more soul as a singer than he does. And you know, people always talk about Mike's voice on Van Halen songs, but that's a blend of Mike's voice and my voice. It's not just him."
Reached for comment by Billboard, Anthony - who's currently touring with former VH vocalist Sammy Hagar's current band the Circle and playing a set list that includes some of their old band's biggest hits - declined to dignify Van Halen's accusations with a point-by-point response.
"I am proud to say that my bass playing and vocals helped create our sound," said Anthony. "I've always chosen to take the high road and stay out of the never-ending mudslinging, because I believe that it ultimately ends up hurting the Van Halen fans."
...And on David Lee Roth
Even David Lee Roth's most ardent fans understand that he and Eddie Van Halen aren't the best of friends, and it's easy to see Roth's reunion with Van Halen as a cynical business decision. But in a new interview with Billboard, Eddie says he didn't invite Roth back in the band for money - he did it for the fans.
After admitting that Roth "does not want to be my friend," he countered, "I think it's now built into people's DNA that it just won't be Van Halen if it's not Roth's voice. You make music for people. Otherwise, just play in your closet. And how do you reach the most people? By giving them the band that they know. To do it any other way would be selfish."
Naturally, this doesn't mean Van Halen is blind to Roth's flaws - or the obvious visual disconnect between the singer's ever-flamboyant image and the rest of the band. "How can I put this: Roth's perception of himself is different than who he is in reality," mused Van Halen. "We're not in our 20s anymore. We're in our 60s. Act like you're 60. I stopped coloring my hair, because I know I'm not going to be young again."
Somewhat ironically, Van Halen attributes the dismissal of the group's third singer, Extreme frontman Gary Cherone, to Cherone's wardrobe choices. "We were getting ready to go on tour, and all of a sudden I see this John Travolta outfit - these big lapels and a crazy jacket," he recalled. "He's like, 'This is my stage outfit.' That's when I realized it wasn't going to work. But I don't dislike Gary at all."
Van Halen also reasserts his willingness to cut a new studio album with the current lineup, but sounds an ominous note regarding the possibility of getting another record out of the band. "It's hard, because there are four people in this band, and three of us like rock 'n' roll. And one of us likes dance music," he shrugged. "That used to kind of work, but now Dave doesn't want to come to the table."
---
Ozzy Osbourne to Form Supergroup With Slash and Tom Morello

Ultimateclassicrock.com

For his headlining performance at the Voodoo Music + Arts Experience in New Orleans on Oct. 31, Ozzy Osbourne has assembled a group comprised of some old friends. He'll be playing with his Black Sabbath band mate Geezer Butler on bass, with Slash and Tom Morello on guitar.
Consequence of Sound notes that this is scheduled to be this unnamed group's only appearance in North America, but there are plans to tour abroad. With Black Sabbath's slot at the Ozzfest Japan in late November replaced by an "Ozzy and Friends," it's probable that this lineup, along with a drummer who has yet to be named, will play that night.
And while the idea of seeing the self-proclaimed Prince of Darkness on Halloween in a city famous for spookiness might be too good an opportunity to pass up, many are holding out for the final album and tour by Sabbath. Back in April, Osbourne said that those plans have been put on hold until 2016.
There has been no further word about the proposed Las Vegas residency for Osbourne that was rumored to be taking place in the fall. The Facebook page for "Hell Gate" has not been updated since March 26 and its Twitter feed has been dormant since May 1.
The three-day Voodoo Music + Arts Experience, which has been held every year since 1999, boasts an eclectic lineup that includes Florence + the Machine, Zac Brown Band, Jane's Addiction, Chance the Rapper, Jason Isbell, Giorgio Moroder and Jack U. Once again, it will take place at the Festival Grounds in City Park. For complete information, visit their website.
---
Iron Maiden Announces First-Ever Double Album, "The Book of Souls"

Ultimateclassicrock.com

Details on Iron Maiden's next studio effort, a first-ever double album to be titled The Book of Souls, are emerging - including a track listing, cover art and release date. Due on Sept. 4 via Parlophone/Sanctuary-BMG, the project was recorded in Paris with long-time Maiden producer Kevin Shirley.
"We're really excited about The Book of Souls," frontman Bruce Dickinson said in pre-release materials, "and had a fantastic time creating it. We started working on the album in late summer 2014 and recorded it at Guillame Tell Studios in Paris, where we'd done the Brave New World album back in 2000 - so the studio holds special memories for all of us. We were delighted to discover the same magical vibe is still alive and very much kicking there! So we immediately felt at home and the ideas just started flowing. By the time we'd finished we all agreed that each track was such an integral part of the whole body of work that if it needed to be a double album, then double its going to be!"
Though complete for some time, Iron Maiden decided to delay releasing The Book of Souls until Dickinson was given the all-clear after a tumor diagnosis. The 11-song studio effort runs 92 minutes long, with a new emphasis on shared songwriting. Stalwart Steve Harris contributed to seven songs, all but one of them with other members. Dickinson wrote two songs, the most since 1984's Powerslave, and collaborated with Adrian Smith on a pair of others. The full tracklisting, with credits, is below.
"We approached this album in a different way to how we've recorded previously," Harris added. "A lot of the songs were actually written while we were there in the studio and we rehearsed and recorded them straight away while they were still fresh, and I think that immediacy really shows in the songs, they have almost a live feel to them, I think."
The Book of Souls, Iron Maiden's 16th studio effort, follows 2010's The Final Frontier – which earned the group their highest-ever chart debut at No. 4 on the Billboard charts. The album will be available in a standard 2CD edition, a limited-edition deluxe edition that also includes a hardbound book, triple-heavyweight black vinyl, and as both a standard and high-res audio download. The cover art was created by Mark Wilkinson, who has collaborated with Iron Maiden before. A tour is planned, beginning early next year.
Track listing for Iron Maiden's "The Book of Souls":
Disc 1
1. If Eternity Should Fail (Dickinson)
2. Speed of Light (Smith/Dickinson)
3. The Great Unknown (Smith/Harris)
4. The Red and the Black (Harris)
5. When the River Runs Deep (Smith/Harris)
6. The Book of Souls (Gers/Harris)
Disc 2
7. Death or Glory (Smith/Dickinson)
8. Shadows of the Valley (Gers/Harris)
9. Tears of a Clown (Smith/Harris)
10. The Man of Sorrows (Murray/Harris)
11. Empire of the Clouds (Dickinson)
---
Lynyrd Skynyrd, Sweet Home Alabama: Album Review
Ultimateclassicrock.com'
Sweet Home Alabama is, if nothing else, a testament to the enduring appeal of Lynyrd Skynyrd. The two-disc set shows off the reconstructed band sparking their engine again for a 1996 concert at the Loreley Festival in Germany.
Recorded for Rockpalast, the evening found Lynyrd Skynyrd welcoming new guitarist Rickey Medlocke, who joined stalwart members Gary Rossington, Leon Wilkeson and Billy Powell. (The lineup is rounded out by the late Ronnie Van Zant's brother Johnny on vocals, Owen Hale on drums and Hughie Thomasson of Outlaws fame on guitar.) Even with a fresh face, however, Sweet Home Alabama finds the warhorse band doing what they do best. The setlist is pretty much what one would expect from Skynyrd, then or now.
They kick things off with a raw "Working For MCA," which gels right into "I Ain't The One" for a one/two punch. "Down South Junkin, Double Trouble and I Know A Little" follow, as the band dig a little deeper into their catalog. The big hits are, obviously, a big chunk of the set here, with all the usual suspects getting an airing. Especially strong takes on Saturday Night Special and What's Your Name are among the highlights, along with an extended workout on Call Me The Breeze where the guitar army has their say.
Disc 2 includes the obligatory Sweet Home Alabama and Free Bird, while the remainder of the second disc is probably of most interest as it includes three tracks dating back to a 1974 concert from Hamburg. Recorded at the Musikhalle on their 1974 European tour, these last three songs show off Lynyrd Skynyrd's original lineup delivering youthful takes on Workin For MCA, Free Bird, and Sweet Home Alabama. One wonders what happened to the entire concert!
There may be nothing groundbreaking about Sweet Home Alabama – and, of course, it's no match for the 1976 live set, One More From The Road – but it remains a solid set that represents a notable chapter in Lynyrd Skynyd's long history. On this night, the band was able to recapture some of that fire nearly 20 years after the disastrous plane crash that, for a long while, put Lynyrd Skynyrd to rest.
---