---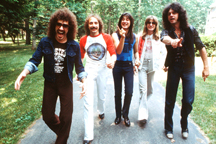 Should Journey Reunite with Steve Perry?
ultimateclassicrock.com
Journey fans across the world got all stirred up about the reported possibility of the group reuniting with former vocalist Steve Perry this week - only to find out that once again it's apparently not going to happen.
But let's step back a minute and look at the larger question - should Journey reunite with Perry? After all, they've been recording new music and delighting fans in concert without him since 1998, and it seems that he's quite content to be retired from the road. Then again, it's hard to imagine a venue they couldn't fill with Perry back in the fold.
We assigned two writers to take on each side of this great rock debate, and here's what they said. As always, we leave the final vote up to you.
Journey Should NOT Reunite with Steve Perry
By Dave Lifton
Stop believing, already. Without searching the UCR archives, it seems like we go through this at least twice a year. Someone sticks a microphone in Steve Perry or Neal Schon's face and asks the only question that comes to mind. They try to give a diplomatic answer and we're expected to treat it like the contracts are all written and just waiting to be signed. Then, a few days later, comes the inevitable backtrack.
Whatever issues - whether it's personal and/or financial - that exist between the two camps don't look like they're going to be resolved soon. Perry seems to be content living off his mailbox money and picking his projects carefully, while Schon clearly relishes being in the band. Besides, Arnel Pineda is plenty capable of singing those songs, and people keep coming out to see them every year. So as long as all the interested parties are satisfied, why should they do something that could blow it all up?
YES, Journey Should Reunite with Steve Perry
By Melvin Van Nebula
It's been over two decades since Perry, Schon and keyboardist Jonathan Cain shared the stage, and over 25 years since the Perry-led lineup of Journey toured. All that time apart has done absolutely nothing to diminish the fan excitement that boils over anytime even the slightest possibility of a classic-era Journey reconciliation is mentioned from either side. Outside of Led Zeppelin, it's probably the most asked-about reunion in classic rock today.
Rock and roll is all about freedom of choice, so we feel a bit bad saying this - but it's time to answer the call and give the people what they want. There are entire generations of Journey fans who have never seen this lineup in action. However, this doesn't need to be a permanent arrangement. Journey can follow the "one night only" template provided by Led Zep back in 2007. Make sure there's high-definition cameras recording the whole thing for future home video release - or heck, put it live on pay-per-view so the whole world can watch at once. (After all, we know Schon is familiar with that business model.)
---
Jason Bonham and Glenn Hughes Working Together Again
Ultimateclassicrock.com
Jason Bonham and Glenn Hughes are working together on a new project. Previously, the pair collaborated in Black Country Communion, a short-lived supergroup that also featured guitarist Joe Bonamassa and producer Kevin Shirley.
According to Classic Rock magazine, drummer Bonham (son of Led Zeppelin's late, great drummer) and singer and bassist Hughes (one of the many vocalists who've passed through Deep Purple over the years) have formed California Breed with 23-year-old guitarist Andrew Watt.
"It's proper rock," Hughes told Classic Rock. "But at the same time it's very now. Andrew is as influenced by Mick Ronson as he is Jimmy Page."
Black Country Communion released three albums between 2010-12, but they split up after Hughes and Bonamassa didn't exactly see eye to eye on the band's touring schedule. Bonham and Hughes then recruited Watt - whom Bonham calls a "white Jimi Hendrix" - for California Breed.
While the band's upcoming album is still untitled and there's no firm release date (they're shooting for sometime in May), a dozen tracks have been slated for the LP. "The energy when I walked in the room was crackling," said Bonham. "I was so pleased. Glenn and I had not only really locked in as a rhythm section in BCC, but we'd started writing together, and we both really wanted to keep that good feeling going."
---
Joe Satriani To Release Box Set
Ultimateclassicrock.com
The career of guitar whiz Joe Satriani will be the subject of a new box set. On April 22, Sony/LegacyRecordings will release 'Joe Satriani: The Complete Studio Recordings,' a retrospective spanning his nearly 30 years as a solo artist.
'The Complete Studio Recordings' begins with 1986's 'Not of This Earth' and compiles all 14 of Satriani's albums, all the way through last year's 'Unstoppable Momentum.' The set will include the platinum-selling albums 'Surfing With the Alien' and 'Flying in a Blue Dream.' A 15th CD, 'Additional Creations and Bonus Tracks,' will also be included, along with a booklet of photos and other memorabilia. A limited-edition USB containing all 15 discs will be available from Satriani's website. You can see a complete list of the albums included in the box set below.
"When the good people at Legacy approached me with the idea of a comprehensive box set featuring my studio recordings in their entirety, plus bonus tracks, all remastered, I answered with a resounding, 'YES!,'" Satriani said in a press release.
Back in July, Satriani announced that he was writing his autobiography, called 'Strange Beautiful Music: A Musical Memoir.' The book is expected to be released in April.
'Joe Satriani: The Complete Studio Recordings' Album Listing
'Not of This Earth' (1986)
'Surfing with the Alien' (1987)
'Flying in a Blue Dream' (1989)
'The Extremist' (1992)
'Time Machine' (1993)
'Joe Satriani' (1995)
'Crystal Planet' (1998)
'Engines of Creation' (2000)
'Strange Beautiful Music' (2002)
'Is There Love In Space' (2004)
'Super Colossal' (2006)
'Professor Satchafunkilus and the Musterion of Rock' (2008)
'Black Swans and Wormhole Wizards' (2010)
'Unstoppable Momentum' (2013)
'Additional Creations and Bonus Tracks' (2014)
---
Watts won't mind if Stones stop
Classicrockmagazine.com
Rolling Stones drummer Charlie Watts has admitted he'd be "quite happy" if the band's upcoming Australian tour is their last. The 72-year-old also says there's a reason behind their recent spate or short runs rather than the extensive treks they used to undertake.
Watts tells The Australian: "This is short compared to what we've done before - but it needs to be, I think, at our tender age.
"The thought of doing fifty shows, which was normal at one time for us to sign off on, that's quite daunting. Now we're doing that in little bits.
"If we don't do any more I'll be quite happy with that."
The Stones blasted back into action at the end of 2012, just in time to celebrate their 50th anniversary, then remained on the road during 2013, including a return to London's Hyde Park and a headline spot at Glastonbury.
Their schedule for this year includes concerts in the UAE, Japan, Macau and China as well as six Australian dates and one in New Zealand.
---
Neil now says it's not the end for Motley
Classicrockmagazine.com
Motley Crue singer Vince Neil appears to have backtracked over the band's upcoming permanent split.
Last week they appeared determined to emphasize there would be no coming back after they complete their Final Tour and release a movie based on celebrated biography The Dirt. They signed a legally binding agreement in front of press witnesses, allegedly making it impossible for them to regroup after the end of 2015.
Last year bassist Nikki Sixx vowed the Crue would "blow its own brains out" to ensure there was no chance of a comeback. And since the January press conference he's stated that his side-project Sixx AM will become his main focus, while guitarist Mick Mars has said he'll concentrate on solo work.
But Neil said: "Here's the thing - Motley Crue's not breaking up. We're still going to be making music. We're still selling merchandise and stuff.
"We'll make music; do songs for certain things. Motley Crue will still be around. We're just not going to tour any more. That's really kind of it."
He even says there's a chance of the band performing together after their self-imposed deadline.
"Somebody brought that up. They said: 'If you're inducted into the Rock And Roll Hall Of Fame, would you get back together?' Probably so, but that would be it."
At least he's firm with his colleagues on one matter: "They go: 'If a Saudi prince gave you ten million each, would you  do it?' No. Everybody's looking for the loophole, the grey area. We're done. There's no more touring."
Crue's Final Tour is expected to reach the UK and Europe next year.
---