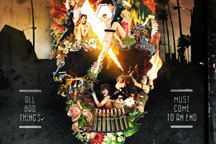 Mötley Crüe's "The End" Headed To Theaters
ultimateclassicrock.com
The Mötley Crüe concert film commemorating what was billed as the band's last-ever show is heading to theaters for a special engagement next month.
As previously reported, the movie — fittingly titled The End — blends footage from the complete show with "exclusive interviews and behind-the-scenes footage of the last week of the tour." Director Christian Lamb, whose credits include live filming for Def Leppard, handled the performance portion of the movie, while Jeff Tremaine, who's directing the upcoming adaptation of the band's The Dirt memoir, was responsible for the interview segments.
According to Fandango, The End's special theatrical engagement will take place June 14. Promising "an incredible one-night event," the ticketing site's synopsis describes the film as the culmination of not just the band's final tour, but their multi-platinum career.
"In January 2014, Mötley Crüe held a press conference announcing their final tour ever, complete with a 'cessation of touring' agreement prohibiting all future live engagements. The Final Tour ended up being comprised of 164 concerts over two years, all ending with a hometown gig at Los Angeles' Staples Center," reads the movie description. "This New Year's Eve Celebration was filled with hits like 'Kickstart My Heart,' 'Girls Girls Girls,' 'Home Sweet Home' and many more. Now, for only one night, this last ever performance event gives fans front row access. Catch the moments that were buzzed about, such as Tommy's infamous 'Crüecifly' drum roller coaster, and behind-the-scenes moments that will now just be coming to light."
---
Styx Albums Ranked Worst To Best

ultimateclassicrock.com
Like the mythological river from which they drew their name, Styx have been flowing across the classic rock landscape for nearly half a century, helping to define that era with a career marked by both incredible highs and dispiriting lows. To help navigate those waters, we've created a gallery where we've ranked Styx's albums from worst to best.
As they made their way from abject anonymity on the South Side of Chicago to worldwide renown, the members of Styx found time to indulge in both magical musical collaborations and ruinous personal recriminations. But it was exactly that fiery dynamic that allowed core songwriters Dennis DeYoung, Tommy Shaw and James 'JY' Young to continually challenge and inspire each other's talents to greatness.
Through it all, Styx built upon their claim as charter members of America's first progressive rock generation (alongside Kansas, Journey and others) by gradually streamlining their sound until their once-intricate songs were primed for radio airplay, and thus ready to reach millions of fans well into the band's career.
Styx's discography is a living testament to old-school artist development, the likes of which will probably never be witnessed again. Whereas today, musicians are expected to deliver hits right out of the gate, Styx and many of their '70s peers were at least given the opportunity to perfect their craft over time, trial and error, until everything could fall into place.
This wasn't always the case, but Styx proved themselves among the ultimate survivors when they reached the zenith of their creative powers and finally started collecting long-term dividends for their hard work, just about halfway through the 15 studio albums we are revisiting here. So come sail away as we rank Styx's albums, from worst to best.
---
Ultimateclassicrock.com

Toto's summer 2016 tour offers American fans 'An Evening With' the band.
The currently scheduled dates see the group making 21 stops over roughly a month-long span, starting Aug. 12 in Riverside, Iowa, and wrapping up Sept. 11 in Paso Robles, California.
Along the way, they'll present a set list that promises to offer cuts from their recent Toto XIV LP as well as a variety of hits and fan favorites. "We look forward to bringing a longer show to our fans across The U.S.," said guitarist Steve Lukather in a press release. "It has been an interest for David, Steve, Joseph and I over the past couple of years and we can't wait to get out there this summer."
Toto's summer tour arrives alongside Someday/Somehow, the debut solo offering from co-founder Steve Porcaro, which is set to arrive June 10. Check out the album cut "Swing Street" and take a look at the group's complete currently scheduled itinerary below. Visit their official site for sale dates and detailed ticketing information.
Closest dates to the Tri-State are:
9/04 — Denver, Colo.
9/06 — Sandy, Utah
9/08 — Saratoga, Calif.
9/09 — Indio, Calif.
9/10 — Pala, Calif.
9/11 — Paso Robles, Calif.
---
Desert Music Festival Expanded To Two Weekends

ultimateclassicrock.com
The Desert Trip music festival, featuring some of classic rock's biggest names, has been expanded to two weekends. The same lineup will now play sets on Oct. 14-16 in addition to the previously announced Oct. 7-9 dates.
The Rolling Stones, Bob Dylan, Paul McCartney, Neil Young, Roger Waters and the Who are all scheduled to perform at the weekend-long music fest, which has been called a classic-rock version of Coachella. The shows will take place at the Empire Polo Club in Indio, Calif., the same location as the hugely popular Coachella concerts every year.
The new dates have been added "due to overwhelming demand," according to a press release. All of the shows will start after sunset, and will include full sets by the artists. The Stones and Dylan will play Friday nights, McCartney and Young on Saturdays and Waters and the Who on Sundays.
General admission tickets start at $199 for one night. Three-day passes and reserved seating packages are also available: Three-day general admission passes are $399; reserved floor passes are $699, $999 and $1,599. Reserved grandstand passes for the entire festival are $999 and $1599. Standing pit passes for all three days are $1,599. Tickets for both weekends go on sale today.
Rumors of the festival began circulating a few weeks back. In the week since the official announcement of the shows, anticipation has been high for the event that some have humorously dubbed "Oldchella." The fest has also come under some fire for the high ticket prices, as well as the rumored $7 million payday for each artist.
---
AC/DC's Reported Soundcheck Hints At Surprises

ultimateclassicrock.com
On May 7 AC/DC took the stage at the Passeio Maritimo de Algés in Lisbon, Portugal with Axl Rose singing lead. Audio has surfaced that purports to be from their soundcheck, and, in addition to giving us a clearer indication of what they will sound like, suggests that a couple of songs could make their tour debut.
According to setlist.fm, four songs — "Thunderstruck," "Hells Bells," "Back in Black" and "High Voltage" — have been played at all 63 previous dates on the Rock or Bust tour. As for the other two, "Rock 'n' Roll Damnation," from 1978's Powerage, hasn't been heard since Oct. 21, 2003 at the Carling Apollo Hammersmith in London, while they haven't performed "Dog Eat Dog," from 1977's Let There Be Rock, since Dec. 6, 2009 at the Estadio River Plate in Buenos Aires, Argentina.
After a little more than eight minutes, the source changes from the soundcheck to a rehearsal three days ago. They run through some more songs, including "Shoot to Thrill" and "Hell Ain't a Bad Place to Be," both of which have also been played at every stop.
Last month, AC/DC hired Rose to front the band when longtime singer Brian Johnson had to step down or risk permanent hearing loss. They will play 12 dates across Europe and then, at an unknown time following Guns N' Roses' "Not in This Lifetime…" tour, will make up the 10 American shows that were postponed due to Johnson's condition.
---