---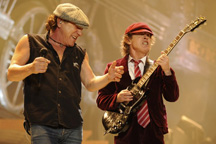 Bob Dylan To Release an Entire Album of Frank Sinatra Songs
ultimateclassicrock.com

For his upcoming 36th studio album, Bob Dylan is doing something he's never done before: tackling the Frank Sinatra songbook.
Confirming rumors sparked when he started streaming a cover of Sinatra's 'Full Moon and Empty Arms' alongside the announcement that he'd soon be releasing a new LP titled 'Shadows in the Night,' Dylan has revealed a Feb. 3 release date for the album, as well as a track listing focusing entirely on songs popularized by Sinatra.
"It was a real privilege to make this album," Dylan says in a press release. "I've wanted to do something like this for a long time but was never brave enough to approach 30-piece complicated arrangements and refine them down for a 5-piece band. That's the key to all these performances. We knew these songs extremely well. It was all done live. Maybe one or two takes. No overdubbing. No vocal booths. No headphones. No separate tracking, and, for the most part, mixed as it was recorded."
Those old-school recording techniques are of a piece with the overall aesthetic Dylan tried to bring to the songs. As he put it, "I don't see myself as covering these songs in any way. They've been covered enough. Buried, as a matter a fact. What me and my band are basically doing is uncovering them. Lifting them out of the grave and bringing them into the light of day."
"There are no strings, obvious horns, background vocals or other such devices often found on albums that feature standard ballads," added Columbia Records Chairman Rob Stringer. "Instead, Bob has managed to find a way to infuse these songs with new life and contemporary relevance. It is a brilliant record and we are extremely excited to be presenting it to the world very soon."
'Shadows in the Night' is available for pre-order now. Check out the complete track listing below.
Bob Dylan, 'Shadows in the Night' Track Listing
'I'm a Fool to Want You'
'The Night We Called It a Day'
'Stay With Me'
'Autumn Leaves'
'Why Try to Change Me Now'
'Some Enchanted Evening'
'Full Moon and Empty Arms'
'Where Are You'
'What'll I Do'
'That Lucky Old Sun'
---
Jimmy Page Disputes Rumors That He Was Too High to Work During 'In Through the Out Door' Sessions
ultimateclassicrock.com
"You know who knows me? My clothes. My clothes know me very well."
That quote about sums up the confrontational tone set between Jimmy Page and GQ during the magazine's 'Men of the Year' feature on the former Led Zeppelin guitarist - a conversation that found him repeatedly shrugging off questions about his personal life and irritably refusing to wave away the fog of rumor that's long surrounded the band.
Page took particular umbrage when confronted with the widespread belief that he was strung out on heroin during Zeppelin's later years, and that sessions for the band's 'In Through the Out Door' album proceeded largely without his involvement. "How do you know I had a heroin problem? You don't know what I had or what I didn't have," retorted Page. "All I will say is this: My responsibilities to the music did not change. I didn't drop out or quit working. I was there, just as much as anyone else was."
Regarding the subject of whether he was absent while 'In Through the Out Door' was coming together, Page snapped, "If anyone wants to say that, the first thing you have to ask them is, 'Were you there at the time?' The second thing to take on board is the fact that I am the producer of 'In Through the Out Door.' That's what I did. It's right there in black and white. If there were controversy over this, if John Paul Jones or Robert Plant had done what you're implying, wouldn't they have wanted to be listed as the producers of the album? So let's just forget all that."
Sadly, the conversation never had a chance to get into Page's new music, which may see the light of day in 2015; instead, the interview was run aground with a question about whether Page teamed up with David Coverdale in the early '90s in order to annoy Plant ("That's pathetic. I'm not going to answer that") and another about his interest in the occult. We'll just have to wait and see what Page has planned for his next act - and remember that when it happens, he'll insist on letting the music speak for itself.
---
John Fogerty Responds to Lawsuit Filed by Ex-Creedence Clearwater Revival Bandmates
ultimateclassicrock.com
John Fogerty is no stranger to lawsuits, and he definitely seems to be taking the one recently filed against him by his surviving former Creedence Clearwater Revival bandmates in stride.
Fogerty has issued a response to the lawsuit with the press-release equivalent of brushing off one's shoulder, expressing bemused surprise and noting that he found out about it while he was driving his daughter to school.
"The people who come to my shows know they will hear me sing and play the songs I wrote and recorded over the past four decades of my career," he said. "Every night we play live, I'm thrilled to see all of those fans singing along to the songs that have touched them. I am at a wonderful place in my life. I am playing the music that I love and wrote, with full joy and having my son Shane joining along side of me - it doesn't get much better than that."
Happy as that might make Fogerty seem, he also made it clear that he doesn't intend to take this lawsuit lying down — or cave in to whatever his former partners' demands might be. "No lawyers, lawsuits or angry ex-band members will stop me ever again from singing my songs. I am going to continue to tour and play all my songs every single night I am out on the road," Fogerty concluded. "Rockin' all over the world!"
---
Ann Wilson Would Definitely Be Up for Fronting Led Zeppelin
ultimateclassicrock.com
We know Robert Plant isn't interested in fronting a reconstituted Led Zeppelin, and we know Heart singer Ann Wilson is more than up to the task of performing Zeppelin's greatest hits. Could she ever see herself joining Jimmy Page and John Paul Jones for some sort of Zep project?
The subject came up during Wilson's recent chat with Classic Rock Revisited, starting with the incendiary cover of 'Stairway to Heaven' that she and Nancy Wilson performed at the Kennedy Center Honors in 2012. Calling it "one of the most unforgettable nights of my life … a life changer," she shared the rush of emotions that came over them after they left the stage.
"When we were done, we walked backstage and there was a feeling of awe. We were like, 'What just happened?'" Wilson recalled. "We weren't nervous when we were doing it, but afterwards our nervous system came back to life and it all kicked in."
Asked if she'd audition for the job if Page and Jones decided to mount a tour of Zeppelin material without Plant in the vocal spot, Wilson quipped, "Would I have to audition?" before making it clear that - in the probably fairly unlikely event that she's called upon to do it - she'd be more than happy to step in.
"I don't know. Hypothetically, if they ever needed a lead singer and Heart was not active at the moment, then, sure, I would," Wilson offered. "I would go and play with Jimmy Page and John Paul Jones any day of the week."
---