---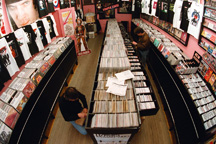 New Music Will Soon Be Released on Fridays
ultimateclassicrock.com
There's going to be a major change to the way new music is released starting this summer. The music industry has decided to streamline the process by making Friday the global release day for new records.
The International Federation of the Phonographic Industry (IFPA) made the announcement after discussions with labels and musicians around the world. 'Release days currently vary from one country to another, causing frustration for consumers when music fans in other parts of the world can access new releases before them,' they posted on their website. "As well as helping music fans, the move will benefit artists who want to harness social media to promote their new music. It also creates the opportunity to reignite excitement and a sense of occasion around the release of new music."
They believe it will have an added benefit: "The move to an aligned global release day will also reduce the risk of piracy by narrowing the gap between release days in different countries."

Prior to this new decision, every country's record industry had the authority to set its own release date. Germany and Australia already have the new Friday standard, while in the U.K., new music was available on Mondays. Tuesday has long been the release date in the U.S. Even though experts say the day was chosen to maximize music sales, they disagree on the reasons. NPR Music suggested that it allowed for a full week of sales, because Billboard publishes its charts on Wednesday, while industry writer Mark Berman theorized that it had to do with understanding the mindset of consumers. Record executive Joe McFadden said that it was a way to "level the playing field" by giving distributors time to get the product in stores, and showed a degree of foresight when he noted, "There have been backroom conversations among labels recently about moving the street date to Friday."
The switch is expected to begin this summer, with new records going on sale one minute after midnight on the day of release.
---
How Van Halen's 'Women and Children First' Cover Shoot Nearly Destroyed the Band
ultimateclassicrock.com
At this point, it's common knowledge that David Lee Roth's thirst for the spotlight was pretty much always a source of tension between the singer and his bandmates during the early days of Van Halen - particularly Alex and Eddie Van Halen. But as a recently published look back at the photo shoot for their 1980 album Woman and Children First makes clear, the chemistry in the group was so delicate that even something as simple as album artwork had the potential to provoke a full-blown war.
Greg Renoff, author of the upcoming book Van Halen Rising: How a Southern California Backyard Party Band Saved Heavy Metal, offers a glimpse of those personality clashes in a new post for Cuepoint, revealing that Roth's eagerness to hire famous photographer Helmut Newton for the Women and Children shoot backfired almost completely, ballooning the album budget and triggering a battle that ended in a messy last-minute compromise.
It's a lengthy read, but one that should prove fascinating for Van Halen fans who have long appreciated the group's ability to function at such a high level during its rise to fame in spite of the stark difference between Roth's preening persona and the Van Halens' rigid control of the band's musical direction. (Bassist Michael Anthony, as he did on the albums, is a solid background presence in this story - the guy who shows up on time and does his job without making waves.)
Of course, quite a bit of that early Van Halen appeal was bound up in Roth's showmanship, and Renoff's story highlights how charming he could be - not least to Newton, who tells Roth "you are my new favorite blond" after their first meeting and unapologetically focuses on the frontman during his tense photoshoot with the band. Outtakes from the session are included in the post, including an alternate version of the one photo that ended up being published: a shirtless Roth, chained to a fence in skintight leather pants, which was included as a poster with the first million copies of Women and Children First.
Knowing what we know now, this fight looks like just another reason why Roth's split from Van Halen in 1985 was probably always inevitable, and it also serves as yet another example of how label execs often have to function as diplomats between artists whose relationships are just as combustible as their talent. The story of how the Women and Children deal was reached, and how photographer Norman Seeff ended up coming in to shoot the LP's final cover because he "had a talent for taking pictures that made bands comprised of musicians who disliked each other look like they were the best of friends," is worth a read.
---
Will Steven Tyler's Solo Album Lead to New Aerosmith Music?
ultimateclassicrock.com
Steven Tyler's upcoming solo album might nudge Aerosmith back into the studio. That's one potential outcome, according to guitarist Brad Whitford, who told The Morning Call that finally getting this long-in-the-works solo project out of his system might leave Tyler eager to write some songs with the band. "Steven is working on a solo album that he's been wanting to do for the last 20 years," Whitford pointed out. "I think a good deal of inspiration may come out of that - he may want to continue to write."
Of course, it's always difficult to tell what Tyler's going to do, and Whitford quickly admitted that his comments were based on pure speculation. "We're not currently in the studio or anything. We're not quite sure when we might get back," he added. "Maybe at some point this year we might record some new music. Currently, no plans."
In the meantime, Tyler continues to plug away at the album, which has reportedly started heading in a country direction in recent months. Revealing plans for a series of Nashville writing sessions this winter and spring, Tyler assured fans, "There's a piece of me that just loves country so much. And I'm not sure what kind of country that is, but it's got the fifth harmony, and anyone who knows who the Everly Brothers is - it's those kinds of melodies that are just so, so good."
Any kind of country element would be a fairly far cry from Tyler's first solo single, 2011's "(It) Feels So Good," which just serves to underscore how long he's been working on this record - and how eclectic the final product might ultimately be whenever it arrives.
---
Styx Concert to Be Shown on AXS-TV
ultimateclassicrock.com
AXS-TV will premiere a 2014 concert by Styx next month. The show was recorded at the Orleans Arena during last year's Soundtrack of Summer Tour with Foreigner and Don Felder. It will air on March 15 at 8PM ET.
The special includes such Styx classics as "Renegade," "Come Sail Away" and "The Grand Illusion," as well as the deep cut "Light Up." Felder sits in on "Blue Collar Man." Felder's opening slot that night, which featured Tommy Shaw sealing down vocals and guitar on "Hotel California," will follow the Styx broadcast.
Styx are in the middle of a headlining tour that runs through March 20. After a few months' rest, they will join Def Leppard and Tesla for a summer jaunt across North America. Styx guitarist James "J.Y." Young, for one, is pumped.
"The mutual admiration society between Styx and Def Leppard began in the U.K. in 1978 when Joe Elliott attended Styx's first-ever performance in Def Leppard's home town of Sheffield, England," Young enthused in a press release. "Both bands having emanated from working class beginnings, either on the South Side of Chicago, or the Steel Town of Sheffield, England, there is a natural camaraderie and synergy amongst them. I feel like these guys are long-lost brothers of mine. It's going to be guitars a-blazin' and drums a-poundin', regardless of who's on the stage, featuring arguably the most successful rock band of the late '80's, paired with one of the most successful bands of the late '70s, early '80s. The ingestion of too much sugar can lead to illness, but 'Pour Some Sugar on Me' is a recipe for healthy smiles and a fun night for everyone!!!"
---